Estimated read time: Less than a minute
This archived news story is available only for your personal, non-commercial use. Information in the story may be outdated or superseded by additional information. Reading or replaying the story in its archived form does not constitute a republication of the story.
BAGHDAD, Iraq (AP) -- An explosion rocked central Baghdad on Wednesday night, and a U.S. soldier said it was a rocket-propelled grenade that narrowly missed the Sheraton Ishtar Hotel.
A U.S. army spokesman said the explosion occurred during an ongoing American military operation. "That was us," Capt. Jason Beck of the U.S. Army's 1st Armored Division, the unit that controls Baghdad, told the AP.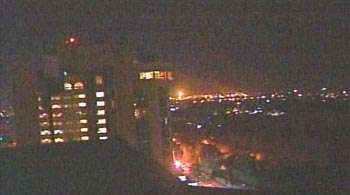 Guests at the Sheraton, called by satellite telephone, said they were fine.
Shooting followed the blast, which appeared to come from some distance behind the heavily barricaded hotel, a haven for Westerners. The hotel is on Abu Nawas Street near the east bank of the Tigris River.
The 1st Armored Division unleashed a barrage further from central Baghdad before dawn Wednesday and said it was aimed at anti-American insurgents.
(Copyright 2003 by The Associated Press. All Rights Reserved.)
×
Most recent News stories