Estimated read time: 5-6 minutes
This archived news story is available only for your personal, non-commercial use. Information in the story may be outdated or superseded by additional information. Reading or replaying the story in its archived form does not constitute a republication of the story.
TIKRIT, Iraq (AP) -- American soldiers overpowered and arrested a bodyguard who rarely left Saddam Hussein's side Tuesday and said they obtained documents and information that could help them close in on the former dictator.
As "one of Saddam's lifelong bodyguards," Adnan Abdullah Abid al-Musslit was believed to have detailed knowledge of the former president's hiding places, said Lt. Col. Steve Russell, who led the raid. He said documents taken from the home and information obtained from the men would be useful in the hunt for Saddam.
"Every guy we get tightens the noose," said Russell, commander of the 4th Infantry Division's 22nd Infantry Regiment. "Every photo and every document connects the dots."
The stocky bodyguard struggled to break free as soldiers arrested him, and they had to wrestle him to the ground and drag him down the stairs, Russell said.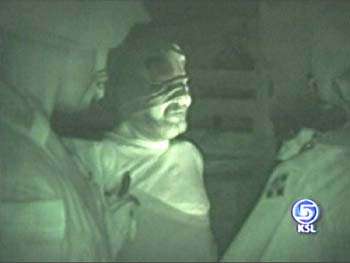 "Were we surprised? He's a bodyguard. That's why we went in with our steely knives and oily guns," Russell said. "If everything else had failed and we just got that one guy, we would be happy."
But the series of pre-dawn raids in the heart of the deposed dictator's hometown nabbed a total of 12 people, including Daher Ziana, the former head of security in Tikrit, and Rafa Idham Ibrahim al-Hassan, a leader of the Saddam Fedayeen militia.
The raids began at 4 a.m. when soldiers fired three shotgun blasts into the locks of the house where bodyguard al-Musslit was living with his family.
Moments later, an Associated Press reporter watched as soldiers pulled al-Musslit from the house, bleeding and barefoot. Soldiers stripped him to his underwear, searching for weapons, and dragged him into an Army Humvee.
A medic examined the right side of his forehead, where blood seeped through the wide tan cloth that was wrapped over his eyes as a blindfold.
Al-Musslit had retired from his job as one of Saddam's most trusted bodyguards, but the former Iraqi leader called him back into service before the war started, Russell said, citing intelligence gathered from Tikrit residents.
About a block away, soldiers stormed a house where Ziana was living, emerging from one the house's ornate arched entrances with four men with their hands tied behind their back. One of the men was identified as Ziana, Saddam's security chief in Tikrit.
Soldiers cut white sheets from the home into strips to make blindfolds for the men, who sat under guard in the front yard.
Six women, some clutching the hands of small children, wailed as soldiers threw photographs and documents into the driveway. A large portrait of Saddam lay alongside a picture of Ziana in uniform. One album featured a photo of women posing with Kalashnikov rifles.
Among the documents was something called a "Saddam Privilege Card," Russell said.
Nearby, soldiers pulled al-Hassan from another house, Russell said. Al-Hassan was believed to be a Brigadier General and a leader of the Fedayeen militia, which is suspected in the mounting attacks on U.S. troops.
The men were taken to an Army detention facility in Tikrit where they will be interrogated, Russell said.
The 22nd Infantry said it came within 24 hours of catching Saddam's new security chief -- and possibly the dictator himself -- at a farm in eastern Tikrit on Sunday. It also assisted Task Force 20, the special operations force hunting Saddam, in a Thursday raid that netted up to 10 of the dictator's suspected bodyguards in al-Uja, the Tikrit suburb where Saddam was born.
It began hunting al-Musslit after a raid on a farm belonging to Saddam's cousin Barzan Abd al-Ghafur Sulayman Majid al-Tikriti -- 11th on the U.S. list of Iraq's 55 most-wanted -- where they found several photos of al-Musslit at Saddam's side, Russell said.
Bradley fighting vehicles were attacked late last week around the corner from the house where al-Musslit was staying. Russell and his driver, Spc. Cody Hoefer, became locked in a close-quarter shootout with al-Musslit's nephew and three other men, Russell said. The four Iraqis were killed in the fight.
In the following days, soldiers stepped up surveillance on the area and gathered the information that led to the raids. On Monday, soldiers in Tikrit found a huge stash of anti-tank mines and gunpowder they said was enough for a month of attacks on U.S. forces.
"Forty mines could have caused a lot of problems for U.S. forces here in Tikrit," said Maj. Bryan Luke, 37, of Mobile, Ala.
Between Tikrit and Baghdad, guerrillas floated a bomb on a palm log down the Diala River, a Tigris tributary, and detonated it under an old bridge linking Tikrit to the city of Baqouba.
In Baghdad, military officials said a U.S. soldier was killed Monday when insurgents dropped a grenade on his convoy as it drove below an overpass. Three soldiers were wounded.
The death brought to 49 the number of American soldiers killed in combat since May 1, when President Bush declared an end to major combat in Iraq. In all, 164 U.S. soldiers have died in combat in Iraq, 17 more than in the 1991 Gulf War.
Speaking during a visit to India, Gen. Richard B. Myers, chairman of the U.S. Joint Chiefs of Staff, said central Iraq, from Baghdad to Tikrit, was still a "war zone."
"Eighty percent of the security incidents are happening there," Myers said at a news conference Tuesday in New Delhi. "It's fair to say it's still a war zone in that area."
"Militarily we won't be defeated in Iraq," he said. "We will stay until the job is done."
(Copyright 2003 by The Associated Press. All Rights Reserved.)
×
Most recent News stories