Estimated read time: 3-4 minutes
This archived news story is available only for your personal, non-commercial use. Information in the story may be outdated or superseded by additional information. Reading or replaying the story in its archived form does not constitute a republication of the story.
TIKRIT, Iraq (AP) -- With a thunderous explosion from 12 pounds of plastic explosives, the U.S. military toppled a 30-foot statue of Saddam Hussein on horseback from its perch overlooking the dictator's hometown Friday. Soldiers also defused a huge homemade bomb near Baghdad's airport.
Pvt. Reshaun Richardson of the 555th Combat Engineering brigade, known as the "Triple Nickel," pushed the button that sent the Saddam statue pitching over near the gate to his former palace compound in his northern hometown of Tikrit.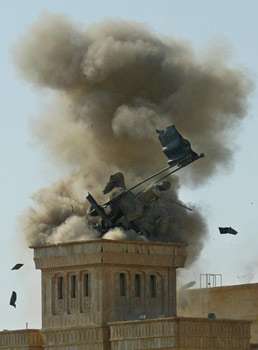 "It felt real good," said Richardson, of Dothan, Ala. "There were lots of smiles around, and I had the biggest of them all."
The statue -- depicting the ousted leader mounted on a rearing horse and brandishing a sword as if charging into combat -- was made of solid bronze and stood near the main gate of the his huge palace complex overlooking the city of his birth.
The head of the statue was taken to 4th Infantry division headquarters in Tikrit as a trophy, with the rest of the bronze to be shipped to Fort Hood, Texas, where it will be melted down and turned into a memorial "for all of Task Force Iron Horse who contributed to this war, and especially those who died," said Sgt. Maj. Gregory Glen of Baltimore.
The 4th Infantry, part of the 30,000-member task force operating in the north, uncovered a huge weapons cache Wednesday night in a farmhouse outside Tikrit that included 250 assault rifles, 11,000 rocket-propelled grenade rounds and two tons of C4 explosives, said Maj. Josslyn Aberle of Great Falls, Mont.
She was asked why the statue was not blown down a day earlier as a matter of symbolism on the 35th anniversary of the Baath party coup that brought Saddam to power 11 years later.
"We thought about doing that, but it was more symbolic the day after because they (the Baathists) were supposed to come back," Aberle said, referring to rumors of attacks planned for the anniversary. "Well guess what, they are not coming back and the statue has come down."
In Baghdad, U.S. Army engineers on a routine daybreak patrol spotted what they described as a large bomb in a burlap sack on the median strip of a highway near the airport. It was the same place where a military vehicle came under fire on Monday, killing a soldier and wounding four.
The bomb measured three feet by one foot and was built in a container normally used to make ice blocks, the whole contraption left inside a white burlap sack, according to Lt. Robertrel Sachi of Columbus, Ohio.
"It was wired to a remote-controlled doorbell ringer. It had a 100-foot blast radius," Sachi said.
Another lieutenant, John Atwell of St. Louis, said the bomb was wired to two car batteries. He was helping block traffic on highways nearby the bomb, snarling traffic throughout western Baghdad.
Soldiers searched nearby houses but made no arrests. After the area was clear, a bomb disposal team dismantled the bomb's blasting cap and was X-raying the bomb to see whether it had a secondary detonation system. They planned to remove the bomb for a controlled detonation in a remote area.
"We blow that here, and we'll shatter every window for blocks around," Sachi said.
Several hours later, a large explosion rocked a site in southwestern Baghdad where the military often destroys ammunition.
(Copyright 2003 by The Associated Press. All Rights Reserved.)
×
Most recent News stories