Estimated read time: 4-5 minutes
This archived news story is available only for your personal, non-commercial use. Information in the story may be outdated or superseded by additional information. Reading or replaying the story in its archived form does not constitute a republication of the story.
BAGHDAD, Iraq (AP) -- A gunman shot a U.S. soldier in the neck as he browsed a Baghdad market on Friday and American forces accidentally killed an 11-year-old boy, part of a vicious cycle of Iraqi attacks and ever-tougher U.S. crackdowns on resistance.
The past two days have seen a torrent of guerrilla-style ambushes that have killed at least two U.S. soldiers, with a third dying in a non-combat accident. Two U.S. soldiers remained missing Friday night, three days after their apparent abduction from a guard post north of the capital.
Saboteurs also have been attacking Baghdad's power grid and oil pipelines, foiling coalition efforts to restore services to the Iraqi people as temperatures climb as high as 117 degrees.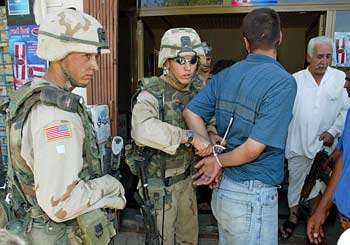 "These are guys who want us to fail. They'd rather see their country burn than have it succeed," said Maj. Scott Slaten, of the Army's 1st Armored Division.
Beyond frustration over the hardship of daily life, the killing and wounding of Iraqi civilians only heightens distress over the U.S. occupation -- resentment felt by Iraqis who welcomed the fall of Saddam Hussein as well as by Saddam loyalists blamed for violence against U.S. forces.
Some Iraqi civilians have died in anti-American attacks, such as two national electricity workers killed Thursday when ambushers threw grenades at a U.S.-led convoy.
In Friday's civilian death, however, U.S. soldiers in western Baghdad thought they were shooting at a possible attacker carrying an AK-47 assault rifle. Instead, they killed a boy on the roof of his home.
"The soldiers determined the situation was hostile and engaged the individual," said U.S. military spokesman Maj. Sean Gibson. "It was not until after the search was under way that they discovered that it was an 11-year-old boy."
As attacks on Americans spread from around the capital to the previously quiet Shiite Muslim south, U.S. soldiers are on edge, intent on protecting themselves from what military leaders describe as disorganized groups of Iraqis with grenade launchers and Kalashnikovs.
The U.S. civil affairs officer shot in the neck was critically wounded and underwent surgery Friday night. A man with a pistol shot the soldier at close range and fled through the market crowds, said Ammar Saad, a 44-year-old vendor.
Meanwhile, the military searched by ground and air Friday for the two missing serviceman and their Humvee, as U.S. interrogators questioned at least six men arrested in the disappearance.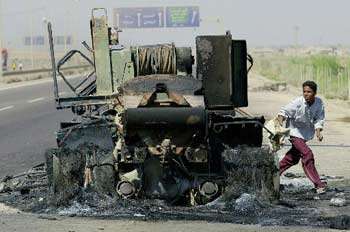 "We don't know if they were abducted or they were just killed," said Sgt. Patrick Compton, a U.S. military spokesman in Baghdad.
American military officials say the daily grind of ambushes is beginning to affect their efforts at reconstruction. "There is nothing that they're doing that will stop us," Slaten, of the 1st Armored Division, said. "But it does slow us down a little because we have to focus more effort on security."
In two days, a steady drumbeat of anti-American attacks have plagued occupation forces.
-- A U.S. soldier was wounded Friday near Balad, north of Baghdad, when a rocket-propelled grenade hit his convoy.
-- An Army truck struck an explosive device, apparently a land mine, on a dirt road Friday west of Baghdad. A U.S. soldier and a witness said wounded Americans were evacuated by helicopter.
-- Two U.S. soldiers were wounded Friday when their Humvee was hit by an rocket-propelled grenade in Baquba, 45 miles northeast of Baghdad, said Lt. Col. Mark Young of the 4th Infantry Division.
-- Assailants blew up a U.S. military vehicle with a roadside bomb, killing a U.S. special operations soldier and wounding eight others Thursday, the military said.
-- Ambushers fired an rocket-propelled grenade at a U.S. Army truck south of Baghdad, wounding two soldiers.
-- A U.S. Navy sailor died in a non-combat incident Thursday, military spokeswoman Army Sgt. Amy Abbott said, declining to provide details.
The names of the victims were not made public. At least 58 U.S. troops have died in Iraq since major combat was declared over May 1, including at least 20 in attacks.
Until recently, almost all violence against occupying forces occurred in Sunni areas north and west of Baghdad, where Saddam mined support. But attacks this week have spread into the Shiite majority south.
In Najaf, 100 miles southwest of Baghdad, gunmen killed an American soldier Thursday who was investigating a car theft, a military statement said.
Late Thursday, a British plane dropped leaflets on the southern Shiite town of Majar al-Kabir, where six British soldiers and at least five Iraqi civilians were killed this week in clashes.
The leaflets stated that U.S.-led coalition forces regretted the loss of life among Iraqi civilians but added that coalition forces were not behind the incident.
"We will not return to punish anyone since these are the methods of Saddam's regime. We will return to set up good relations with you because of our concern about a secure Iraq," the statement said. "Don't let rumors ruin our good relations."
Also Friday, in Washington, Democrats on the Senate Armed Services Committee announced plans to stage an inquiry on the credibility of prewar intelligence on Iraq's weapons of mass destruction and its links to the al-Qaida terror network.
(Copyright 2003 by The Associated Press. All Rights Reserved.)
×
Most recent News stories