Estimated read time: 4-5 minutes
This archived news story is available only for your personal, non-commercial use. Information in the story may be outdated or superseded by additional information. Reading or replaying the story in its archived form does not constitute a republication of the story.
CAMP AS SAYLIYAH, Qatar (AP) -- President Bush insisted anew on Thursday that war to rid Iraq of destructive weapons was justified, and he said the truth about Saddam Hussein's ability to create and use deadly germs and bombs would come in time.
"We're on the look. We'll reveal the truth," Bush said in a speech to 1,000 cheering troops as he wound up a seven-day tour of Europe and the Middle East. He flew back to Washington along a path that took him over Baghdad.
At 31,000 feet, Bush sat on a bench and gazed out a left-side window of Air Force One along with Secretary of State Colin Powell, National Security Adviser Condoleezza Rice and White House chief of staff Andrew Card.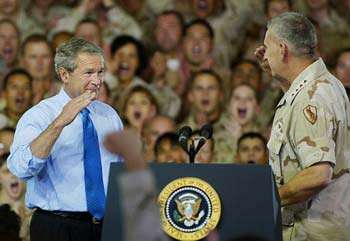 He pointed out landmarks, including two airports, a predominantly Shiite area known as Saddam City and the site of the first night's attack. Four F-18 fighter jets escorted in pairs at each wing, a protection routinely afforded presidential aircraft.
The fly-over was the closest Bush has come to the former battlefield. He visited on Thursday with soldiers based to the south in tiny Qatar, which served as the combat operations center for the U.S.-led attack on Iraq.
The visit came amid growing international complaints over the U.S.-led coalition's failure to locate tangible evidence of the mass-killing weapons Saddam was said to possess. Bush's major ally in the war, British Prime Minister Tony Blair, is accused of exaggerating the dangers posed by Iraq, the biggest controversy the popular prime minister has faced at home in six years in power.
On Capitol Hill, Defense Secretary Donald H. Rumsfeld said he told House members that he believed the intelligence about Saddam's weapons will prove to be accurate. He spoke with reporters after a closed-door meeting with lawmakers.
Asked about remarks by Sen. Robert Byrd, D-W.Va., questioning whether the weapons existed, Rumsfeld said, "We haven't found Saddam Hussein and I don't know anyone who is running around saying he didn't exist."
Thus far, U.S. and British forces have found two truck trailers equipped with fermenters, which the CIA and Defense Intelligence Agency said were probably part of a mobile biological weapons production facility. No complete production system has been found.
Neither trailer had any biological agent inside, nor showed any sign that they had been used to produce biological weapons. Still, Bush suggested Thursday, as he had in previous days, that those labs helped prove Saddam had built weapons and hid them.
"We recently found two mobile biological weapons facilities capable of producing biological agents," Bush said. "This is a man who spent decades hiding tools of mass murder. He knew the inspectors were looking for them. You know better than me, he's got a big country in which to hide them."
With temperatures outside soaring above 100 degrees, Bush took off his jacket and rolled up his sleeves before addressing troops inside an air-conditioned building on this army base. He also shook hands with troops at the nearby Al Udied air base just before he boarded Air Force One for home.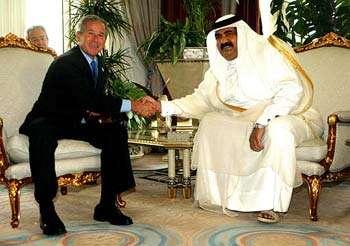 Debate over Saddam's weapons aside, Bush said, the war ensured that Iraq could not be used to supply an arsenal for terrorists. "No terrorist network will gain weapons of mass destruction from the Iraqi regime, because the Iraqi regime is no more," he said.
"As people who liberated Iraq, I know you're proud of what you have done," Bush told the troops. "See, the world is now learning what many of you have seen. They're learning about the mass graves, thousands of people just summarily executed. They're learning about the torture chambers. Because of you, a great evil has been ended. Because of you, the dignity of a great nation is being restored."
Bush met privately with Gen. Tommy Franks, the commander of all U.S.-led forces in the Persian Gulf, and with L. Paul Bremer, the new head of the occupation authority in Iraq, to discuss the progress of Iraqi reconstruction.
He also paid a courtesy call to the emir of Qatar in the country's capital of Doha.
Qatar has been a close U.S. ally in the region since the 1990 Gulf War. During the latest war, the United States used Qatar as its command headquarters. It is also moving forces here from bases in Saudi Arabia that are being closed.
"Most of all, I'm here to thank you," Bush told the soldiers, virtually all of them clad in tan camouflage fatigues. "When we sent you into combat, you performed brilliantly. ... In the battle of Iraq, you set an example of skill and daring that will stand for all time."
Bush's approval ratings remain high in U.S. polls. He has blunted criticism of his role in the Iraq war by throwing his energy into drumming up support for an internationally drafted peace plan that would result in the creation of a Palestinian state by 2005.
(Copyright 2003 by The Associated Press. All Rights Reserved.)
×
Most recent News stories