Estimated read time: 2-3 minutes
This archived news story is available only for your personal, non-commercial use. Information in the story may be outdated or superseded by additional information. Reading or replaying the story in its archived form does not constitute a republication of the story.
NEW YORK (AP) -- NBC News correspondent David Bloom, who had been reporting on the war from the Iraqi desert, died Sunday from a blood clot, the network said. The 39-year-old co-anchor of the weekend "Today" show was traveling with troops about 25 miles south of Baghdad when he suddenly collapsed, said Allison Gollust, a spokeswoman for NBC News.
He was airlifted to a nearby field medical unit, where he was pronounced dead from a pulmonary embolism, Gollust said. She said his death was not combat related.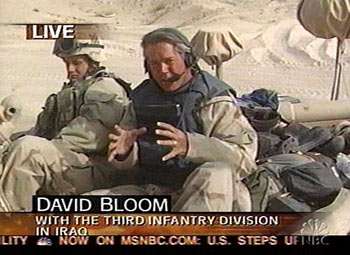 Bloom, a native of Edina, Minn., lived in the New York area with his wife, Melanie, and three daughters. He had been on assignment in Iraq for several weeks, reporting from the middle of desert sand storms and while columns of military vehicles rumbled toward Baghdad.
"You couldn't keep him away from a story," Tim Russert, the network's Washington bureau chief, said Sunday. "Whenever something was breaking, he wanted to be there."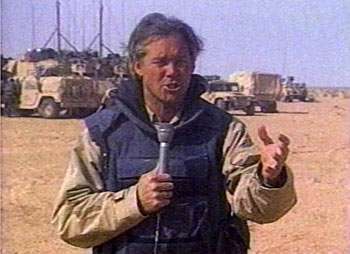 Bloom had been the co-anchor of the weekend "Today" show since March 2000. On Sunday, his co-anchor Soledad O'Brien described him as "a dedicated, tenacious and talented reporter."
"He died doing what he loved, and doing what he did best," she said.
Before joining the "Today" show desk, Bloom was a White House correspondent for NBC. He began there in 1997, during the Clinton administration.
Former President Clinton said Sunday that Bloom's "integrity and good humor will be missed."
"David Bloom was a smart, energetic professional whose enthusiasm for the job was evident in every question he asked and every story he covered," Clinton said.
In his decade with the network, Bloom reported on major stories including presidential races, the Sept. 11 terrorist attacks, the Washington-area sniper shootings, the O.J. Simpson trial and the war in Bosnia.
Bloom attended Pitzer College in Claremont, Calif., and started his career as an investigative reporter for NBC-owned WTVJ in Miami in 1989. He joined NBC News in Chicago in 1993 and then reported from Los Angeles starting in 1995.
"In times like these, a journalist's contribution to his country is measured in terms of illustrious commitment and sacrifice," NBC Chairman and CEO Bob Wright said in a statement announcing Bloom's death Sunday.
"There was no one more devoted to his calling than David Bloom and for that we are both grateful and humbled," he said.
(Copyright 2003 by The Associated Press. All Rights Reserved.)
×
Most recent News stories