Estimated read time: 5-6 minutes
This archived news story is available only for your personal, non-commercial use. Information in the story may be outdated or superseded by additional information. Reading or replaying the story in its archived form does not constitute a republication of the story.
WASHINGTON (AP) -- Abandoning diplomacy, President Bush gave Saddam Hussein a final ultimatum Monday to leave Iraq or face a U.S.-led war. The president planned an address to the nation at 8 p.m. EST to explain his decision.
"This matter cannot continue indefinitely," Secretary of State Colin Powell said.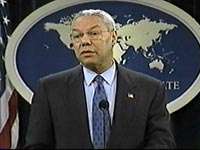 The development came as the United States, Britain and Spain ended diplomatic efforts in the United Nations to disarm Saddam, withdrawing their proposed resolution setting an ultimatum and clearing the way for a U.S.-led war without Security Council approval.
"It was our judgment that no further purpose would be served by pushing this resolution," Powell said.
The latest draft of Bush's address gives Saddam a firm deadline to go into exile or face military action, said two senior White House officials who spoke on condition of anonymity. They would not say precisely how long the deadline would be, but said it was a matter of days.
The officials cautioned, however, that Bush could decide before his address to drop the deadline, and that some of his advisers were opposed to it.
Whether Bush sets a deadline or not, several White House officials said war is days away unless Saddam complies.
In an indication that U.S. forces are primed for battle, Gen. Tommy Franks, the commander of the quarter-million U.S. troops in the Gulf region, met in Kuwait on Monday with his land forces commander, Army Lt. Gen. David D. McKiernan. Franks then returned to his Central Command post at Camp As Sayliyah, Qatar. On Saturday he met with his Navy and Marine Corps commanders in Bahrain.
Ahead of the Bush speech, top congressional leaders were to go to the White House to meet with the president. First thing Monday, several top administration officials, including Defense Secretary Donald H. Rumsfeld, Attorney General John Ashcroft, Homeland Security Secretary Tom Ridge and FBI Director Robert Mueller, filed into the White House.
Secretary-General Kofi Annan announced Monday he will order U.N. weapons inspectors and humanitarian staff to leave Iraq. Annan made the announcement after telling a closed Security Council meeting of his plans. He did not say when the evacuations would begin.
Bush's speech, scheduled to run anywhere from 10 to 30 minutes, was to include a warning for humanitarian workers and journalists to leave the country, officials said. Bush planned to warn them that Saddam has a history of taking hostages, they said.
Powell, in a news conference at the State Department, said that Bush would say that leaving Iraq was the only way for Saddam to avoid war. He said that those who must leave Iraq include Saddam and "immediate members of his family."
The U.S. ultimatum came a day after Bush and the leaders of Britain, Spain and Portugal held a brief summit in the Azores and agreed to give U.N. diplomacy one last day. Bush left the impression Sunday that he would work through Monday on finding a last-ditch diplomatic decision.
Powell said the move to abandon diplomacy early on Monday came after "we spent a great deal of time overnight and early this morning talking to friends and colleagues."
Bush spoke early Monday with his principal allies -- British Prime Minister Tony Blair, Spanish King Juan Carlos and Prime Minister Jose Maria Aznar. Powell spoke to U.N. Secretary-General Kofi Annan and with a half-dozen foreign minister.
Bush had no plans to talk to French President Jacques Chirac. "France has made its point clear through (its threatened) veto, which acquiesces to Iraq continuing to have weapons of mass destruction," Fleischer said.
Powell too had sharp criticism for France, saying five years ago it tried to weaken the U.N. inspection system. Close aides said he would not attend a foreign ministers' meeting called by France with the support of Russia and Germany.
Powell said that discussions were continuing with Turkey despite the legislature's decision not to allow that country to be used by the United States for a northern offensive. The Turkish government fears that war in Iraq would cause an uprising among Kurds in northern Iraq, including a possible attempt to create their own state.
"We've assured the Turks that we are committed to the territorial integrity of Iraq," Powell said.
At the U.N., John Negroponte, U.S. ambassador to the world body, told reporters, "It has been nearly 41/2 months since the council unanimously adopted 1441 which found Iraq in material breach and gave it a final opportunity to disarm. The government of Iraq has clearly failed to comply."
White House spokesman Ari Fleischer told reporters: "The diplomatic window has closed as a result of the U.N.'s failure to enforce its own resolutions for Saddam to disarm."
Those words echoed those of the president at Sunday's news conference in the Azores. "He got to decide whether he's going to disarm, and he didn't. He can decide whether he wants to leave the country."
Saddam threatened a wider war if attacked.
On Monday, Saddam said that Iraq once had weapons of mass destruction for defense against Iran and Israel but no longer holds them, the Iraqi News Agency said. The agency said Saddam made the remarks while meeting with a Tunisian envoy.
Fleischer said U.S. officials were reviewing whether to raise the national terror alert. Another administration official said the alert status was unlikely to change Monday, and said the start of a war would not automatically elevate it from its current yellow, or middle, status. New intelligence information will be discussed each morning by the departments of Justice and Homeland Security, which jointly assess the threat level.
The American-led military buildup in the Persian Gulf continued. More than 250,000 troops, a naval armada and an estimated 1,000 combat aircraft are in the region, ready to strike if and when the president gives the word.
The American public, by a 2-1 margin, supports military action against Iraq to remove Saddam, a slight increase in support from recent weeks, according to a CNN-USA Today-Gallup poll out Monday.
Meanwhile, dozens of anti-war protesters were arrested Monday outside the Capitol in the continuation of what promises to be a week of demonstrations against a war in Iraq. Holding signs and singing "we shall overcome," more than a hundred people peacefully marched from a church in southeast Washington to Capitol Hill.
(Copyright 2003 by The Associated Press. All Rights Reserved.)
×
Most recent News stories