Estimated read time: 2-3 minutes
This archived news story is available only for your personal, non-commercial use. Information in the story may be outdated or superseded by additional information. Reading or replaying the story in its archived form does not constitute a republication of the story.
Nishi Gupta ReportingHundreds of people packed the Sheraton Hotel in downtown Salt Lake City today wanting to become Red Cross volunteers. They want the training to help evacuees staying at Camp Williams.
The Red Cross says it had no idea so many people would show up, especially on Labor Day – a holiday that gives people time off from work. It became a day of giving.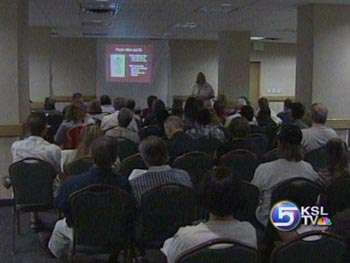 The Red Cross is thankful and overwhelmed by the number of people who showed up. Volunteers stood in lines that didn't end.
Wayne Arballo, Volunteer: "It's like a ride at Disneyland. You just stand and wait."
After registering they eagerly waited for a chance at training. Classes were filled hours before their start time and the Red Cross had to add more. Friends Kayelynn Wright and Melanie Schwendiman came from Magna this morning.
Kayelynn Wright: "The last couple of days we'd talked about it and said, 'What can we do?' So when I saw it last night, I called her this morning and said, 'We gotta go!'"
Paul Ahlstrom's family ended their St. George vacation early.
Paul Ahlstrom, Volunteer: "you can only watch on TV so long before you feel like you need to do something."
But not everyone in the family could help...
Paul Ahlstrom: "Found out you have to be 14 or older. All my kids are under 14."
But they found a way around that. The parents will go through training and the kids will make homemade hygiene kits for evacuees.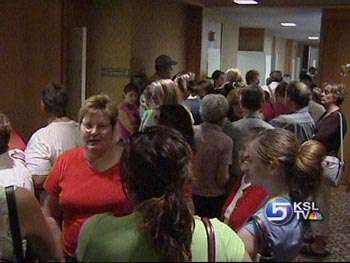 Paul Ahlstrom Jr.: "We're just here to help out and donate to the hurricane relief."
There were so many volunteers that they probably won't be needed at Camp Williams for some time.
Cecilia Walker, Red Cross, Utah: "They're basically on-call. We're basically staffed for the next several days."
But for those who do get called, the Red Cross asks them to work 12 hour shifts and be ready to help out in a variety of ways.
Cecilia Walker: "Mass care feeding, dealing to the comfort of the guest in the shelter, helping them with any of their personal needs."
The Red Cross has scheduled three classes for tomorrow, at 10:00 a.m., noon, and 6:00 p.m. You are asked to bring a photo ID with you. They may also add classes during the week as the need for additional volunteers comes up."
Those who are looking to volunteer for hurricane relief should call officials before heading to Camp Williams. If you're interested in donating you can call the Utah State Health Department at 866-873-2437 or the United Way at 736-8929.
×
Most recent Utah stories