Estimated read time: 2-3 minutes
This archived news story is available only for your personal, non-commercial use. Information in the story may be outdated or superseded by additional information. Reading or replaying the story in its archived form does not constitute a republication of the story.
The tone is set for the 2009 Utah Legislature, and the budget situation has a lot of people nervous. Those in charge of funding public and higher education, social programs and health care, are especially worried.
Lawmakers are worried too, which is why they've been meeting about the budget for the last two weeks. The job of cutting funds isn't going to be pleasant. In this morning's opening remarks, Speaker of the House David Clark, R-Santa Clara, set the tone of the work to come. "Today I ask that you commit to the people of Utah about all of our future," he said.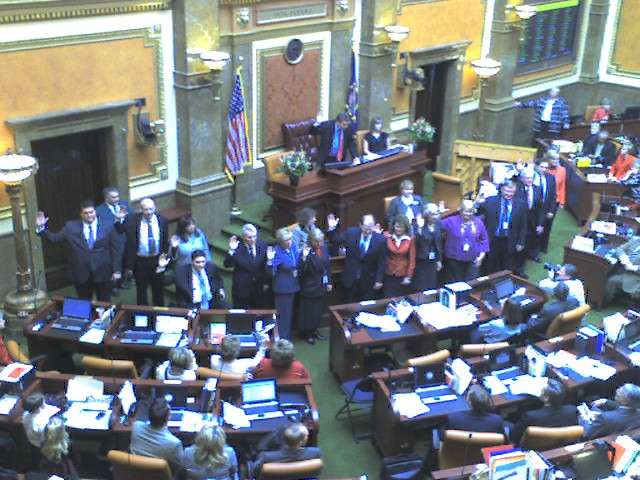 In the Capitol hallways, almost everyone connected to anything that depends on the state budget is worried about the cuts. Among those: advocates for public education, like the Parent-Teacher Association. They're worried that progress over recent years could be undone this year.
"Before some of the economic issues, we were prepared to talk about class size reduction; and now, we're just hoping class sizes don't increase," said Cheryl Phipps, the Utah PTA's vice president for legislation.
Several polls indicate public education is the No. 1 priority for the majority of the state. "We hope people in this session look at people first, and at things later. This should be session when we're investing in Utah's future, Utah's people," said Kim Campbell, president of the Utah Education Association.
But lawmakers have asked education, and other state agencies, to suggest cuts of 7.5 percent this year and 15 percent next year. Some call such cuts draconian, but legislators are walking a tightrope: finding ways to spread the cuts around is not easy.
"I think there will be a fair dose of pain to be felt by everyone," said Senate Majority Leader Sheldon Killpack, R-Davis County.
The budget may dominate, but lawmakers are planning to tackle ethics, liquor laws and gay rights this session as well. In fact, some 30-plus bills deal with ethics reform.
"We'll see plenty of ethics bills this session, and you'll see plenty of them pass. Ethics will be addressed," Killpack said.
Clark said, "As a legislative body, we have a choice: We can look backward or we can look forward. I, myself, choose to look forward to positive change."
Setting the tone inside the House Chamber today, Clark called for civility, but that doesn't mean there won't be spirited debate along the way.
Meanwhile, as the 2009 Legislature gets underway, Utahns are giving a thumbs-up to both lawmakers and Gov. Jon Huntsman. A Dan Jones poll for KSL-TV and the Deseret News shows 90 percent of Utahns approve of the job Huntsman is doing; 64 percent like the work done by the Legislature.
E-mail: rpiatt@ksl.com
E-mail: spark@ksl.com
×
Related links
Related stories
Most recent Politics stories