Estimated read time: 4-5 minutes
This archived news story is available only for your personal, non-commercial use. Information in the story may be outdated or superseded by additional information. Reading or replaying the story in its archived form does not constitute a republication of the story.
SALT LAKE CITY -- Utah Gov. Jon Huntsman Jr. is poised to be ambassador to the biggest country in the world, and Lt. Gov. Gary Herbert is poised to step in and run the state.
Gov. Huntsman said he will start preparing for a Senate confirmation right away. In the meantime, the governor and lieutenant governor are working on the transition of power.
Given the state's economy and its reputation as one of the best-run states in the nation, don't expect many changes, at least right away.
Huntsman on the decision to take job
Monday, Gov. Huntsman appeared in public for the first time since President Barack Obama announced his appointment.
In typical fashion, Huntsman was humble, thanking the people of Utah for their support. He said, "Mary Kaye and I have deep, deep gratitude for the many acts of kindness and support that we have felt from the people of Utah."
Huntsman said he agonized over accepting the job. "Now, the decision that we have made was not an easy one. It was very, very difficult. As I said, we have had many sleepless nights, and Mary Kaye and our children and I have had thorough conversations about what this means, not just for a state that we love and have enjoyed serving, but also for our immediate family," Huntsman said.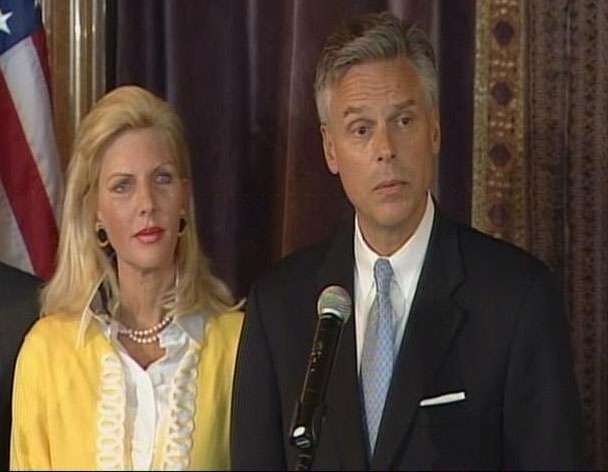 He added, "Let me just say that the president is a very hard guy to say no to."
He said they talked a lot about service. "In some cases, the importance of putting self-interest and politics aside in pursuit of those things that are important to this nation, and I think we understand that," Huntsman said.
The transition process
In the midst of it, of course, there is still a lot of work to be done. Huntsman said the transition process will begin immediately by having Herbert step into public events.
"I think this is important, not only for the public to see Gary in this position, but it's also important for Gary to be out there as he's introduced to new people and becomes more comfortable and familiar with new issues," Huntsman said.
He continued, "I will remain governor and aid Gary in every possible way to ensure that we have a smooth transition during the days and the weeks ahead."
Huntsman also said he would focus on a successful transition "so that when that transfer of power occurs, it will be an afterthought for most people."
Huntsman says he expects his priorities will carry over through Herbert to make Utah a preeminent state and to bring people of different points of view together. "Here we stand before you as a state that is more respected, more admired, is more global, is emulated by many who want to be like us, and I think is better understood than ever before," he said.
Keeping the state's momentum going
Herbert told reporters, "This is a great honor for Jeanette and I. We are excited about the opportunity to continue to work and to serve a state that we love so dearly. We also understand that there are some significant challenges ahead for us as we adapt to the new responsibility of being governor and first lady, but we look forward to the challenge and we come to the job prepared."
Both the governor and the future governor promised to keep the state's forward momentum and progress going.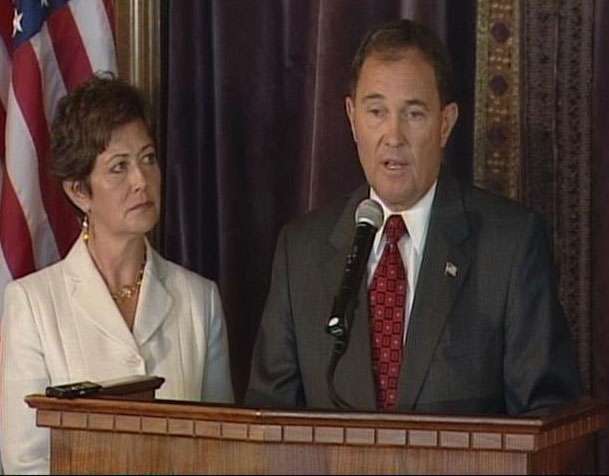 Huntsman said, "We had a cabinet meeting with many of our staffers, and we talked about consistency and continuity. We talked about how no two people are exactly alike, but on the big issues of the day, where do people come down. And on the big issues of the day, I think people will find that consistency and continuity will be on display."
Herbert said, "In order for us to continue the ship of state to keep going down the right road, I think consistency and continuity is important; therefore, I've asked all the existing cabinet members to stay on. There's not going to be any big shake up, we're not going veer to the left or to the right."
---
It has been a week that has been surreal and one where we have experienced every conceivable emotion.
–Gov. Jon Huntsman Jr.
---
Upcoming Gov. Herbert says he has not picked his own lieutenant governor yet, but that's a top priority.
He repeated his statement that, in spite of differences with Huntsman on social issues, he and the governor are more alike where it counts.
He says his inauguration will be simple and quick.
Huntsman prepares for confirmation hearings
In the meantime Huntsman will start preparing for Senate confirmation hearings right away. Huntsman will need to go before the Senate Foreign Relations Committee for the confirmation hearing. Many predict he will sail through.
If approved, his nomination would then go to the full Senate for a vote. "The confirmation time line is completely up to the Senate, and it's unpredictable at this point where that will take us. But I'm guessing, without getting myself in too much trouble, that we're probably several, several weeks out," Huntsman said.
------
Story compiled with contributions from Richard Piatt and Marc Giauque.
×
Related stories
Most recent Politics stories