Estimated read time: 1-2 minutes
This archived news story is available only for your personal, non-commercial use. Information in the story may be outdated or superseded by additional information. Reading or replaying the story in its archived form does not constitute a republication of the story.
SOUTH SALT LAKE -- Congressman Jim Matheson's "no" vote on health care reform is not sitting well with some people in Utah. A group of protesters staked out Matheson's South Salt Lake Office Friday to voice their displeasure with the representative.
It was a small but sincere rally of about 20 people who were very upset over Matheson's vote. The protesters have been watching the health care issue very carefully and have strong feelings about it.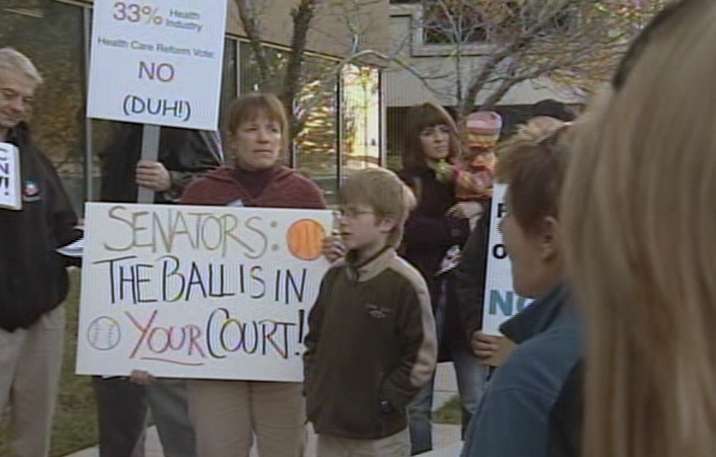 They said Matheson is not on their side by voting no, and claimed that he is hiding from them. He won't take their calls, they said, and some believe that he is a Democrat in name only.
"I don't feel like he's supporting my wishes in Congress," said Ellie Brownstein.
Steven Harper said, "He's shown us that he's not a Democrat, and we want somebody who has those Democratic values representing us in Washington."
"I will not vote for him," Tami Sablan said. "He no longer has my support, and I went up to his office and told him so."
The group went inside to Matheson's offices shortly after their rally began. They attempted a confrontation, but Matheson wasn't there. Instead, they left their signs outside of his office.
Earlier this week, KSL News had a chance to talk to Matheson about his vote. He said he thought the bill was just way too expensive for him to vote "yes" on. He said it lacked tort reform and would create an unstable system, which he just couldn't support.
The debate is now moving to the U.S. Senate. The Utah delegation in the Senate is not supportive of the bill either.
E-mail: rpiatt@ksl.com
×
Related stories
Most recent Politics stories