Estimated read time: 3-4 minutes
This archived news story is available only for your personal, non-commercial use. Information in the story may be outdated or superseded by additional information. Reading or replaying the story in its archived form does not constitute a republication of the story.
SALT LAKE CITY -- One lawmaker is calling on Utah's speaker of the House to resign in the wake of former House majority leader Kevin Garn's resignation.
Ogden Democrat Neil Hansen is accusing House Speaker David Clark of violating the public's trust and the integrity of the House.
Timeline of Garn Scandal

• March 11 Garn confession: 'I made a mistake that has come back to haunt me'
• March 12 Utah politicians react to Garn confession
• March 12 Woman says Garn isn't telling the whole truth
• March 13 Utah House Majority Leader Kevin Garn resigns
• March 14 Garn's resignation brings up question of ethics in politics
• March 15 Lawyers weigh in on Kevin Garn admission
• March 17 Lawmakers meet to discuss Garn scandal, share little with media.

Garn resigned Saturday after admitting to being naked in a hot tub with a 15-year-old girl when he was 30. He also admitted to paying the woman $150,000 to keep quiet about the incident.
Garn's admission happened in the moments after the 2010 legislative session had wrapped up as he spoke to fellow lawmakers from the House floor. That admission was followed by comments from House Speaker Clark, and then applause.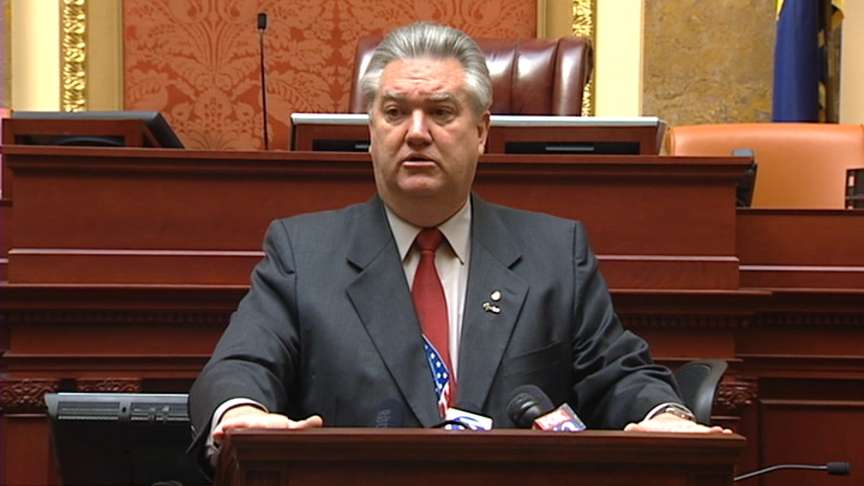 On Thursday, Rep. Hansen called for Clark's resignation, criticizing his handling of the incident. Hansen says Clark knew about the Garn situation for four days and that the speech should never have been made from the House floor.
"It shouldn't have been done on the House floor," Hansen said. "To me, if Kevin Garn was going to air his dirty laundry, if I may, he should have called a press conference out in the rotunda, not here on the people's floor. To me he brought dirty laundry into the people's floor."
Wednesday night, some House Republicans met behind closed doors and issued a statement saying they respect "Garn's decision to resign and believe it was appropriate, while not condoning" what happened.
Clark declined to comment much beyond that, saying just, "Had I known then what I know now I probably would have handled things differently."
Clark's handling of the Garn incident isn't the only thing bothering Hansen. His list of grievances include what he described as attempts to intimidate him and single him out, preventing him from speaking during floor debates, something he says other lawmakers have experienced.
Hansen says at least six times during the session, on debates over health care and street-legal vehicles, he pushed his button to speak, only to be ignored by the Speaker.
"I now realize that when he cuts my voice off, he's cutting off 35,000 of my constituents' voices," he said.
Hansen stood alone at the conference. Other Democrats said they were unaware Hansen was holding a press conference today. His party's Minority Leader David Litvack says the Garn speech "was so unprecedented, to try to find blame on how that was handled is a bit unfair."
Litvack praised Clark for what he says was "unprecedented access and a great working relationship" for Democrats during the session.
Wednesday Gov. Gary Herbert and his Democratic opponent Peter Corroon weighed in.
"I think it sends a mixed message, but again, you put it in the context that they applauded after Speaker Clark had given his comments and praise -- not for what he'd done 25 years ago but for the service he'd rendered the people of Utah in the last eight or 10 years," Herbert said.
"I think the citizens will deal with that accordingly," Corroon said. "I would stay out of those kind of issues and really focus on what we need to focus on and get back to the basics of education, economy."
-----
Story compiled with contributions from John Daley, Marc Giauque and Becky Bruce.
×
Related stories
Most recent Politics stories