Estimated read time: 5-6 minutes
This archived news story is available only for your personal, non-commercial use. Information in the story may be outdated or superseded by additional information. Reading or replaying the story in its archived form does not constitute a republication of the story.
SALT LAKE CITY -- The Tea Party Express has rolled into Utah, and hundreds of people have jumped on board. The Tea Party movement is making its way across the country, rounding up support for a change in government.
Conservatives and grassroots activists say they're protesting because the country is being led in the wrong direction. In fact, the slogan for this year's tour is "Just Vote Them Out."
Following Monday night's St. George Tea Party Express event, two rallies were held in northern Utah Tuesday -- one in Provo and one in Salt Lake City.
The goal of the Tea Party Express movement, which will hold some 42 rallies across 22 states between now and April 15, is to continue to build up the momentum to vote liberal Democrats out of office.
What is... the Tea Party movement?
The Tea Party movement is a national movement focused on fiscal conservatism, limited government and a free market place. It originated in early 2009 with anti-tax protests in response to the 2009 stimulus package and bailouts.
Activists for the movement say elected officials are ignoring the people who have put them into office and it's time to elect people who will listen to what the majority wants.
"These people work for us," said Tea Party Express grassroots coordinator Amy Kremer. "They've forgotten that they work for us, but they do; and we are going to remind them this November that we hired them and we can fire them!"
Some people felt attending the Tea Party events was one way to express their frustration about government intrusion in their lives; others felt it was a way to show disapproval of recent actions by elected officials. They all wanted their voices to be heard.
Related:
Hundreds gather at historic Provo courthouseActivists at the Tea Party event in Provo said they're frustrated with rising taxes, politicians who don't listen and the direction the government is going. Many people we spoke to said they're looking for a leadership change.
The Tea Party Express buses rolled up to the historic Provo courthouse shortly after 10 a.m. About 300 people had gathered in support of the grassroots movement that is calling for a change in not only Washington, but in local government as well.
"I think as a citizen of this country, I'm fed up like everyone else," said attendee Barbara Sparr, of Pleasant Grove. "People keep shoving things down our throats -- Congress does -- without listening, without reading bills. I just think the future of the republic is at stake."
---
If you thought we were just going to quietly go away, or that this tea party movement would be just a passing fad, you were mistaken. We're taking our country back!
–Tea Party Express to Federal Government
---
Matt Barton of Springville is a state delegate for the Republican Party. He came to the rally with his young boys. Barton said it's important to teach them about democracy but is frustrated with the examples in Washington.
"What I'm frustrated about is when we do voice our concerns, and they're cast aside by our elected officials. That's the frustrating thing to me," Barton said. "And then I have to explain to the kids that are taught in school, that this is a democracy and their voice does matter. Well then why if the majority of people don't want something does it get enacted?"
Many supporters are looking for changes in leadership. For too long, they say, elected officials have ignored their constituents.
"We need a change, we need to vote," said Payson resident Milton Guest. "I'm not voting for any incumbent."
Last stop: Utah's Capitol Hill
The last stop in Utah on the Tea Party Express was the state capitol building. As in St. George and Provo before, hundreds showed up to vent their frustrations about the government.
The common theme in the stops is displeasure with government -- particularly the federal government over spending -- the financial bailouts and the just-passed health care reform legislation.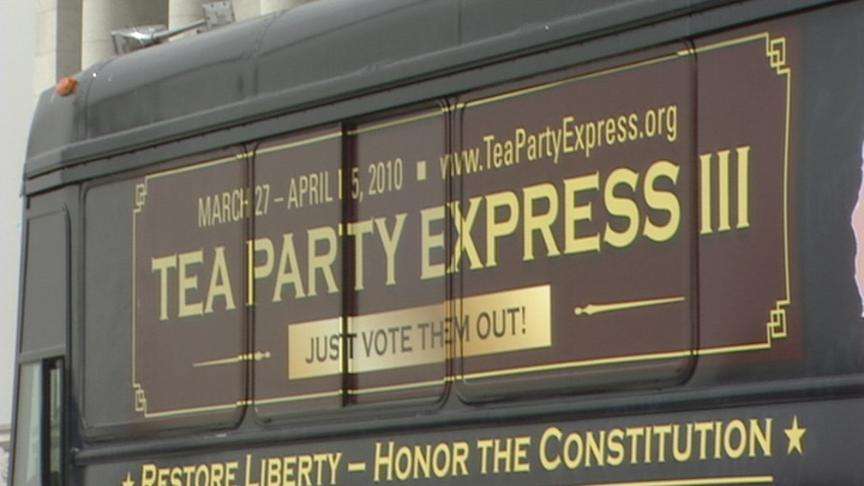 Many in Salt Lake City said they joined in the rally because the grassroots conservatism of the Tea Party movement appeals to them.
West Jordan resident Tana Allen said, "Limiting government would be great, getting back to the basics of the Constitution. We're so far away from that now, it's sad."
"I think we should bring our jobs all back, forget about the NAFTA treaty, declare a state of emergency, start taxing imports and bring our jobs back," said Caldwell, Idaho, resident Darryl Ford. "I think if the economy was flourishing, everything would work out just fine."
The crowd roared as speakers lashed out at President Barack Obama, House Speaker Nancy Pelosi and Senate Majority Leader Harry Reid.
Candidates speak out against incumbents
There also seemed to be a strong anti-incumbent sentiment, especially at the Salt Lake City rally. Among those criticized included a pair of Utah incumbents up for re-election: Rep. Jim Matheson and Sen. Bob Bennett.
Bennett was sharply criticized for his support of the Troubled Asset Relief Program (TARP), embraced by both the Bush and Obama administrations to help the nation's financial institutions.
What's in a name?
Tea Party
The name "Tea Party" is a reference to the historic Boston Tea Party of 1773, whose principal aim was to protest taxation without representation by the British government.
Three challengers to GOP Sen. Bennett spoke to the crowd. All three espousing what they see as smaller, less intrusive government.
"We are off track as a nation," said Republican candidate Tim Bridgewater. "Our government is spending way too much money, we're overtaxed and the people in Washington have lost complete control. We just added $1 trillion to a $14 trillion debt with the new health care mandate."
Mike Lee, another Republican challenger for U.S. Senate, said, "Federal government is too big and costs too much money, and it was never supposed to be that way. We were never supposed to have a federal government under the constitution that could required people to work three, four, five months out of the year and have the audacity to tell them you're not paying enough in taxes because we're almost $14 trillion in debt."
"It's about time Utah tells Washington a thing or two instead of Washington telling us," said Republican candidate Cherilyn Eager. "This is about getting rid of the backroom deals, getting rid of the corruption in Washington, and about listening to we the people for a change."
A spokesman for the Tea Party Express says the tour has a political action committee, which is funded by hundreds of thousands of people. But he says they are funded by no corporations, lobbyists, political campaigns or political parties.
Wednesday the Tea Party Express moves on to Grand Junction, Colo. Some attendees said they are so passionate about the movement they are following it all the way to Washington.
------
Story compiled with contributions from Shara Park, Randall Jeppesen, Anne Forester and John Daley.
×
Photos
Related links
Related stories
Most recent Utah stories