Estimated read time: 3-4 minutes
This archived news story is available only for your personal, non-commercial use. Information in the story may be outdated or superseded by additional information. Reading or replaying the story in its archived form does not constitute a republication of the story.
ST. GEORGE -- From Nevada to Utah, and eventually Washington, D.C., the Tea Party movement is making its way across the country. Hundreds of people are expected to attend rallies in Salt Lake and Provo Tuesday, clamoring for change in Washington.
Monday, the group made its first of three stops in Utah. The Tea Party Express buses rolled in to St. George around 4:30 p.m. Residents were treated to speeches, music and entertainment promoting the group's cause.
---
"They (lawmakers) need not go against the will of the people, and I believe the basic will of the people right now is: Get the government out of our lives." Gloria Gunn, Utahn
---
The goal of the Tea Party Express movement, which will hold some 42 rallies across 22 states between now and April 15, is to continue to build up the momentum to vote liberal Democrats out of office.
Monday's stop in St. George came complete with singing, dancing, even rapping. Members of the tour say they are fed up with rising taxes and expanding government.
"These events, these Tea Parties, are celebrations -- celebrations of our Constitution; celebrations of our freedom; celebrations of our country; celebrations of human rights," one man said.
This weekend, the tour kicked off in Nevada, where thousands attended -- including some people from Utah.
"They (lawmakers) need not go against the will of the people, and I believe the basic will of the people right now is: Get the government out of our lives," said Utahn Gloria Gunn.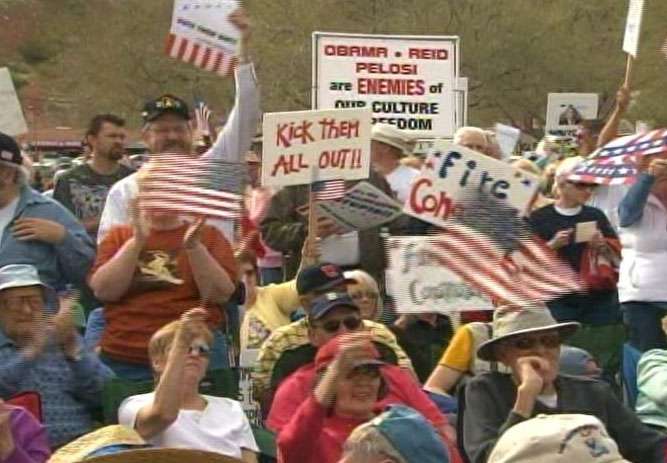 The weekend rallies brought out big names, including former vice presidential candidate and Alaska Gov. Sarah Palin. There, group members were targeting Sen. Harry Reid.
Here in Utah, star guest speakers aren't bringing the people out, but the notion of speaking up sure is.
"I'm hoping to see hundreds. We'll see how the turnout is," says Jared Law, Tea Party organizer for Salt Lake City.
Some of the candidates vying for Sen. Bob Bennett's seat say they will be at the rallies Tuesday.
Law is organizing Tuesday's rally at the State Capitol. He's spread word through Facebook and is also hoping this weekend's national media coverage will inspire people to come out. On the heels of groundbreaking health care passage, he knows people are riled up.
"They (lawmakers) ignored the will of the people," Law says. "They've made it clear that they're going to do whatever they want, and they really don't care what the people think."
Law says Utah rally-goers will have their sights set on one politician in particular.
"Oh yes, Bob 'Bailout' Bennett will be targeted," he says.
Law hopes these rallies shed some light for those people who don't understand or agree with their message.
"It is not about the Republican Party. It is not about right or left," Law says. "It's about liberty versus tyranny."
The Provo rally will be at the Utah County Courthouse at 10 a.m.; Salt Lake's rally will be at the State Capitol at 2 p.m. CLICK HERE for more information.
-----
Story compiled with contributions from Nicole Gonzales, Mary Richards and CNN's Ed Lavandera.
×
Related links
Most recent Utah stories