Estimated read time: 2-3 minutes
This archived news story is available only for your personal, non-commercial use. Information in the story may be outdated or superseded by additional information. Reading or replaying the story in its archived form does not constitute a republication of the story.
Ed Yeates ReportingScientists who've been studying hurricanes for years say New Orleans was a disaster waiting to happen. In fact, research funded by the Government already had computer models nearly duplicating last week's disaster.
University of Utah Meteorologist Dr. Edward Zipser has been chasing hurricanes for years. He says what happened to New Orleans should have been expected. In fact, the very trajectory of the hurricane that hit the city last week had already been plotted out on computer models, years before.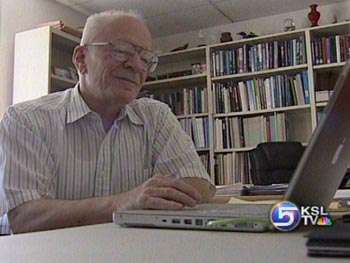 Dr. Edward Zipser, University of Utah Meteorology: "You have a city that's below sea level, protected by levees and flood walls and pumping stations that apparently are not up to the job of even a category three storm."
Another projection showed water rising twenty feet above normal sea level in a category four storm, clearly topping the levees. While Katrina did a lot of damage, the real devastation in New Orleans came from flooding from man-made structures that failed that shouldn't have.
For years, researchers have been experimenting with ways to modify the course of a hurricane. One involved seeding the cloud layer at moderate distances from the center of the storm, choking the eye, thus decreasing the wind. It's like a skater who pulls himself to his own center, spinning faster and faster. By allowing another encircling cloud layer to absorb some of the incoming air, the wind in the center of the storm breaks down.
But then, Nature does this now, just not at our convenience. There are also too many other variables. Zipser says researchers simply need to know more about the beginnings of tropical storms. Only then - at their Genesis - might manipulation someday be possible.
Until then, he says, maybe we need to stop populating the high risk coastlines so much.
×
Most recent Utah stories