Estimated read time: 2-3 minutes
This archived news story is available only for your personal, non-commercial use. Information in the story may be outdated or superseded by additional information. Reading or replaying the story in its archived form does not constitute a republication of the story.
Ed Yeates Reporting A so far unknown contaminant involved in a major pet food recall has triggered hundreds of calls to many Utah animal clinics. Though affected products have been pulled from shelves, the concern is still widespread.
What has happened at Cottonwood Animal Hospital probably typifies what's happened at many animal hospitals over the past several days. Owners are simply concerned over the welfare of their pets. "We've just been swamped with calls," Dr. Dennis Law with Cottonwood Animal Hospital said. "Our phones have been ringing off the hook for the past three days."
What's happening here is happening all over the country. "There was a big alarm over canine influenza but it didn't reach the pitch this has reached," Dr. Law said. "People are very concerned about this. It's scary."
Dr. Dennis Law said since dogs and cats can't verbalize what's bothering them, people are bringing their pets in as a precaution. Dr. Law said that people are bringing in their pets with "any signs of increased water intake, increased urination, vomiting, diarrhea, gastro-intestinal upsets. Those are all signs of potential kidney failure or kidney problems any of that would be of concern."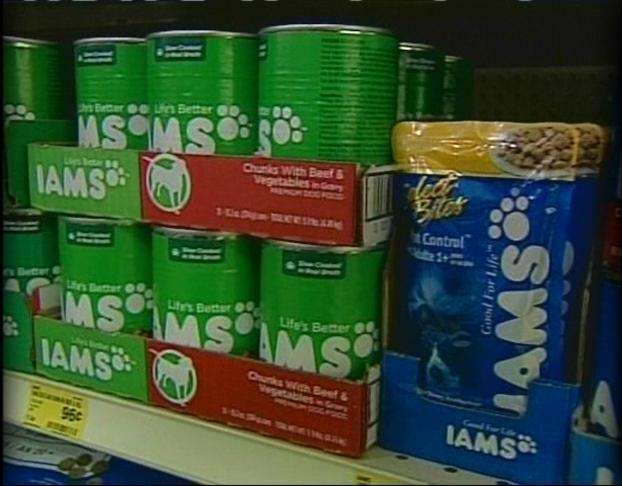 For example, Eddie, one of the dogs at the animal hospital, has gastro-intestinal problems, but they have nothing to do with contaminated food. But what about other dogs and cats? Dr. Law said, "We've had a number of people who've come in where their animals are actually sick. Now whether it's the food or not - we can't say for sure."
As reported so far, fifteen cats and one dog have died after eating a recipe from Menu Foods. The company's wet food formulas, used in almost a hundred brand names, have been recalled. That's more than 60 million containers of pet food.
Is the contaminant a chemical or a mold? No one knows for sure. But ARUP Laboratories Veterinary Pathologist Dr. Lawrence McGill said something has triggered crystals to form in these animals. "They found it in urine. And now, they've found some in kidneys that a couple of diagnostic labs are looking at. So they do think there is something causing crystal urea and seeding out in the kidneys and causing an acute tubular problem," Dr. McGill said.
Dr. Law said we need some perspective with all this concern. Though a lot of recalled food has been sold and consumed by pets, only a few have been affected.
For more information on the recall, visit the link to the right.
×
Related links
Most recent Utah stories