Estimated read time: 2-3 minutes
This archived news story is available only for your personal, non-commercial use. Information in the story may be outdated or superseded by additional information. Reading or replaying the story in its archived form does not constitute a republication of the story.
Keith McCord ReportingEach day the video coming out of New Orleans and surrounding areas illustrates the tremendous need for just about everything, and Utah is stepping up to help--from private citizens to large corporations, aid will soon be on the way.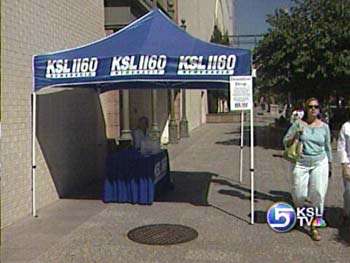 Everything from scuba divers from Camp Williams, to kids emptying out their piggy banks, help is on the way in a variety of forms. Trucks loaded with supplies will soon be on their way down south. Globus Relief collects items from all over the state, and them sends them to where it's needed. The first trucks will head out the evening.
Sarah Monson, Community Relations Mgr, Globus Relief: "We're shipping 26 pallets, about 15 to 20 tons. Mostly hygiene supplies and cleaning supplies that they need to clean their houses that were destroyed; paper products, toilet paper, paper towels, and then food."
Brooms, mops, even something called "Stove-in-Can". This shipment is headed for Louisiana.
In downtown Salt Lake City, KSL NewsRadio 1160 set up a collection box out on the street. For the past two days, Salt Lakers have been filling it with cash, even checks to help hurricane victims.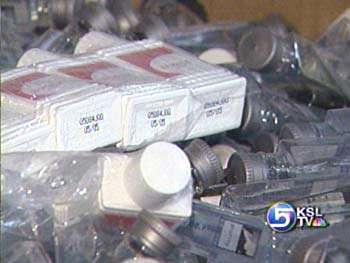 At the International Center near the airport, Don Broussard is getting his truck ready. Don works for Nicholas and Company, a large food distribution company. Nicholas is donating trucks and food, and wants other companies in Utah to do the same.
Jennifer Carroll, H.R. Mgr., Nicholas & Co.: "What we're looking to do is reach out to the community to see if we can put a convoy together where we can leave from Salt Lake City and head all the way down to Texas to get more product down there to represent the state of Utah."
Here are some other ways Utahns are helping:
Smith's Food and Drug Stores will take cash donations at check-out stands for the Red Cross, and will match employee donations up to 300-thousand dollars;
Qwest Communications will do a similar match; up to 250-thousand;
Layton Hills Mall has collection boxes throughout its facility;
The United Way is taking donations on it's website;
The LDS church has already sent a first wave of supplies, with more on the way.
As for Don Broussard, he hopes to lead a large convoy of trucks from Utah beginning tomorrow.
Don Broussard, Nicholas & Co. Driver: "To be able to do this for Nicholas and for the people down there that are devastated, yeah, it makes me feel proud."
And these are just a few of the companies and organizations that are helping. Many more will join in the days and weeks ahead.
×
Related links
Most recent Utah stories