Estimated read time: 3-4 minutes
This archived news story is available only for your personal, non-commercial use. Information in the story may be outdated or superseded by additional information. Reading or replaying the story in its archived form does not constitute a republication of the story.
AP photoSALT LAKE CITY -- The U.S. House of Representatives made history Sunday by passing a landmark health care reform bill they're comparing to Medicare and Social security.
The vote in the House was 219-212. Republicans were unanimously opposed.
All three Utah representatives voted against the bill.
The House passed a package of changes to health care legislation, and the bill now goes back to the Senate. The action late Sunday capped a year-long quest by the president and Democrats to overhaul the system and reshape a sixth of the economy.
Republicans are already preparing to use health care as a way to turn up the heat on Democrats across the country and in Utah.
In Salt Lake City, a half dozen people opposed to the bill picketed the home of Utah Democratic Congressman Jim Matheson. They demanded he do what he announced he would do Saturday: vote "no."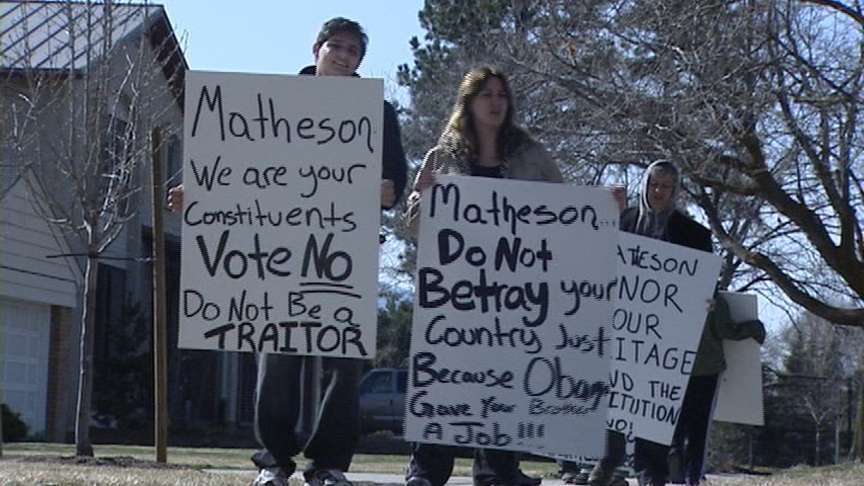 The protesters claimed the health care bill is part of a plot to overthrow and break apart the United States and that if Matheson flip-flopped and voted "yes" he'd be a traitor.
Related:
"We want him to vote 'no' because it, uh, this will bring down the Constitution," said protester Jonas Filho. "That's why we're here basically."
But many Democrats disagree.
"I think the tone of this entire debate has been denigrated, has been brought down, frankly, by the rhetoric of government takeover, socialism, things that are simply not accurate or true," said Democrat Steny Hoyer, House majority leader.
The stage was set for the final vote by a last-minute compromise with wavering pro-life Democrats. President Obama agreed to issue an executive order prohibiting federal funds for abortion.
Utah Republican Jason Chaffetz denounced that maneuver on the phone with KSL.
"They have traded their vote in favor of a piece of paper that is in my estimation worthless," he said. "This bill is just going to be devastating, I think, to our country."
Matheson's explanation for his "no" vote was milder.
"I think we need to do health care reform in this country," he said. "Unfortunately, I don't think this bill accomplishes what we really need to accomplish, which is securing a stable health care industry for the future."
Utah's Republican chairman predicts the "no" vote will weaken Matheson in his own party, and the health bill battle will energize Republicans in coming elections.
"People don't like it. They've shown in poll after poll, they don't like this bill. They want health care reform, but they do not want this," said Dave Hansen.
But Democratic chairman Wayne Holland says a similar outcry greeted Social Security and Medicare decades ago.
"Right now you hear a lot of rhetoric, a lot of hyperventilating from the likes of Karl Rove. But this is going to be very popular with the American people, I'm convinced of that," said Holland.
Matheson's "no" vote has clearly angered many Democrats. The party chairman predicts Democrats will set aside differences and unite for the fall campaign.
But the Republican chairman clearly relishes the prospect that Matheson will be on the hot seat at the Democratic convention in May.
E-mail: hollenhorst@ksl.com
×
Related stories
Most recent Utah stories