Estimated read time: 1-2 minutes
This archived news story is available only for your personal, non-commercial use. Information in the story may be outdated or superseded by additional information. Reading or replaying the story in its archived form does not constitute a republication of the story.
Jed Boal ReportingIt's been an unusual week for major home repairs in the news. Monday a semi crashed into a house in West Valley; last night a plane crashed into a home in Roy; and wait until you see what jolted a West Jordan family this morning.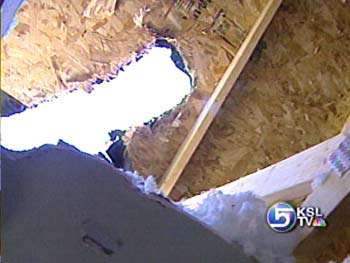 Tabatha Peacock has a hole in her roof that was not there when she left for work at seven. When she got to work, she turned around and raced home. A wheel from cement truck on U-111 came off the truck hundreds of feet away and crashed through her roof.
Tabatha Peacock, Homeowner: "It came through the roof into this closet, busted out the ceiling, went back up into the attic, busted into my room, off the bed and on the floor."
It punched through the roof and bounced a few times in the attic before it crashed into the bedroom. Peacock's mother and one year old daughter slept unharmed just ten feet away.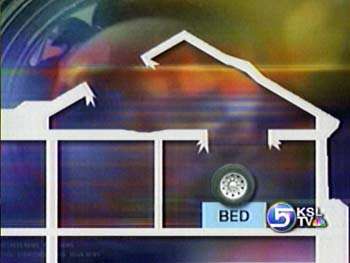 Tabatha Peacock: "She heard a loud crash and a boom, boom, boom, like a bomb was going off."
The wheel had to have been moving very fast and bouncing very high. In order to slice into the house at that angle, we estimate it must have bounced 30 to 40 feet off the road.
Tabatha Peacock: "I can laugh about it now. Everything is being taken care of"
The construction company that lost the wheel stepped up to take care of the mess and Peacock has quite a story to tell her daughter.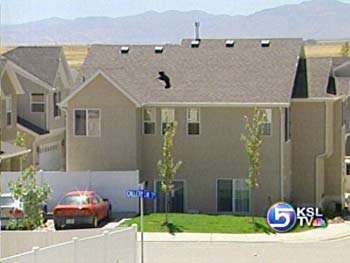 ×
Most recent Utah stories