Estimated read time: 2-3 minutes
This archived news story is available only for your personal, non-commercial use. Information in the story may be outdated or superseded by additional information. Reading or replaying the story in its archived form does not constitute a republication of the story.
Amanda Butterfield ReportingNelda Israelsen: "We walk every morning, this is one of our routes, we just had to come by here and this is like wow, I'm just glad everybody's alive."
No one can believe it, a plane wrecks right into a home and everyone is able to walk away. The crash happened yesterday in Roy and today the tough job will be figuring out what caused the plane to go down.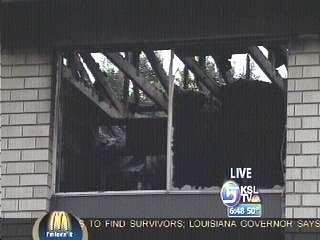 The pilot, Mike Nicholas is recovering at the Ogden Regional Medical Center. He didn't want to go on camera, but says he is doing just fine; he has a few stitches in his chin. He says he is so grateful for the neighbors who helped him and his passenger get out of the plane and he's relieved no one else was injured.
According to the Roy police chief, Nicholas was flying with a student -- they were taking off the Ogden airport when the troubles began. Most of the wreckage is still there this afternoon; the National Transportation Safety Board is investigating.
There is a huge hole in the roof and the inside of the house is charred from the single engine plane crashing into it. One of the wings still sits in the neighbors yard. It was full of fuel when the plane crashed, and though the fuel was drained, police were in front of the home all night to secure it, the family was not allowed to stay there overnight.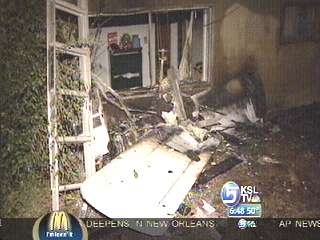 And the neighbors to the east also had to find another place to stay because when the plane came down, it hit a transformer. NTSB is investigating why the plane went down only a mile from the airport.
Greg Whinham, Roy P.D.: "We know the plane was taking off from the airport to the east of us, we know there was some problem getting some power, getting that information has come to us as they tried to leave, they needed more elevation, they were not getting that elevation."
That caused them to clip some trees, the a power pole, then into the house. The pilot was able to turn off the fuel system, which likely delayed the plane from bursting into flames giving them time to get out.
When the fire did start, about 20 homes were evacuated and people were invited to a local elementary school for shelter if they needed it.
Plane wrecks in this neighborhood are nothing new. A few years ago a plane crashed just about two blocks away from this wreck -- all four people inside died.
×
Most recent Utah stories