Estimated read time: 2-3 minutes
This archived news story is available only for your personal, non-commercial use. Information in the story may be outdated or superseded by additional information. Reading or replaying the story in its archived form does not constitute a republication of the story.
Whit Johnson ReportingUtahns celebrated St. Patrick's Day with everything from green clothing, to green beer, to a parade in downtown Salt Lake. Many people all over the state spent the day outside, enjoying record warm temperatures.
St. Patrick is the patron saint of Ireland. March 17 was his feast day. It is also believed to be the day he died. It's become a celebration for people of all backgrounds.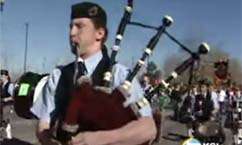 Salt Lake's St. Patrick's Day parade kicked off the holiday. The march down 400 West came with the usual features and the slightly weird. But all were there to celebrate. Some parade-goers are Irish. Others want to be, at least for a day.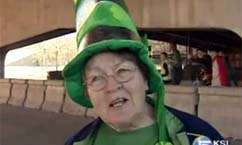 "My husband was and my granddaughter married into the Irish. We just love this holiday," Vonadee Kenney said.
There was fun to be had for the young, the old, man and man's best friend. For some families, the parade is a tradition. Karen O'heaton has been going to the parade for 10 years. She says it's "bigger and better every year."
Also on St. Patrick's Day, money rolled in at the state liquor stores.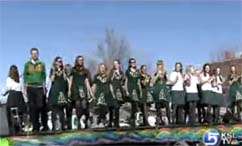 Park Chambers is vacationing in Utah from Portland, Oregon. He told us, "I grew up in Chicago. We dye the river green for St. Patrick's Day. This is the best holiday."
For those who chose to stay out at night, the party continued at the bars.
For them, the holiday closed with the reminder to have a happy, and a safe, St. Patrick's Day. Utah Highway Patrol and other agencies are out on a full-force DUI patrol. They encourage those who are drinking to use designated drivers, taxis, or AAA's "Tipsy Tow" program, which offers free rides. The program is open to everyone. It does not require a membership. If you need a ride call 1-800-222-4357.
×
Related links
Most recent Utah stories