PLEASANT GROVE — Crossovers are taking over the automotive world, much to the chagrin of those who consider driving to be more than simply getting from point A to point B.
I had assumed the trend toward crossovers couldn't possibly be affecting luxury brands like BMW — practically the inventor, and some would argue the perfector, of the sport sedan.
But I was wrong, according to Chris Durr, sales manager at BMW of Pleasant Grove.
"Currently, at this dealership, we are seeing a 60 percent to 40 percent split between crossover and car sales," he said.
As I drove away in the 2018 X2 xDrive28i, I was determined to try to make some sense of this trend that drives buyers of both cars and minivans — the latter of which I can fully support.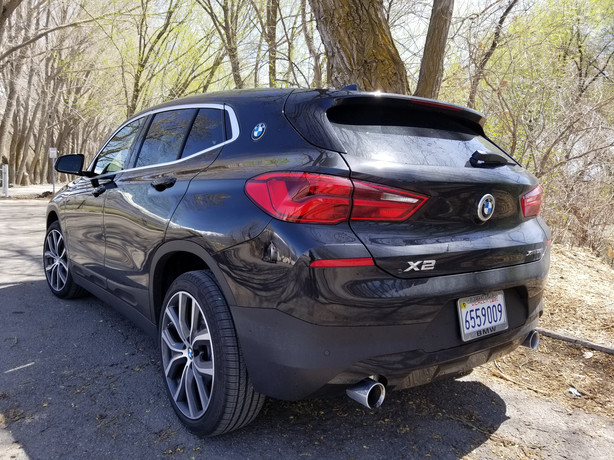 An informal poll of crossover drivers offered three main reasons for this trend:
1. Ease of entry and exit into the vehicle.
2. Ride height: Drivers prefer to have a better vantage point of the road and traffic.
3. Cargo room: Drivers have the flexibility to drive around a family of five but also fold down the rear seats and pick up a dozen bags of mulch at the garden center.
Pros
At first glance, the X2 would seem to contradict the crossover's three selling points. It's a smaller crossover that sits relatively low, but it makes for excellent handling.
At some point during my four days with the X2, I found myself next to a late-model Buick sedan in a parking lot. The rooflines of the X2 and the Buick were very similar.
The low center of gravity certainly helps the X2 navigate everything from canyon corners to highway cruising in a way that is very car-like. The driving position, however, is taller than in a BMW 328 sedan, which makes it easier to enter and exit.
The X2 also has plenty of impressive styling cues, from the bold red interior to the BMW roundel located on each C pillar — which pay tribute to the classic BMW 3.0 CSL coupe, according to Durr.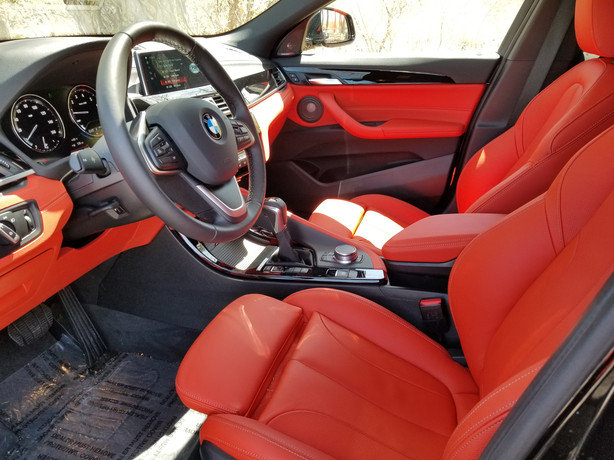 The 2-liter TwinPower turbo four and eight-speed Steptronic automatic transmission pull the car along quickly and decisively. Interestingly enough, this is the first BMW model I've seen recently with a mechanical shifter instead of an electronic one.
After driving the X2 for several days, I was most impressed by the fact that there wasn't much of a gap between the handling of the crossover and a similarly-sized 328 sedan.
Cons
I was immediately disappointed to see that BMW has joined other manufacturers, particularly American luxury brands, in introducing dark, shiny plastic trim to the center console area. In this particular X2, it also supplanted wood or carbon fiber trim for dash and door panels.
These shiny plastics not only look cheap but are difficult to keep clean. Dust and fingerprints stand out sharply in contrast to the plastic itself. Fortunately, the climate and media controls still have a matte finish. The shiny plastic trim, particularly the amount of it, detracts from an otherwise elegant and bold interior.
One other minor interior foible is the two-part opening for the storage compartment below the climate controls. Having a single-piece sliding door would be simpler than allowing separate access to a small storage tray and the charging ports above. It's nice, however, if you want to charge your phone but don't want to open the storage below.
In-betweens
Because the X2 is a smaller crossover that sits fairly low, the rear cargo opening is relatively small and angled in such a way that those bags of mulch might not be as easy to load and unload as they would in a taller vehicle.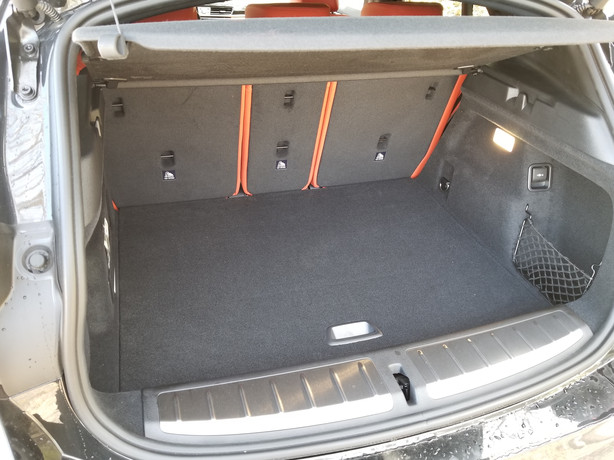 The performance and handling are excellent, however, and the styling is elegant and sporty. The X2 is a sportier version of the entry-level X1 crossover, according to Durr.
BMW's excellent iDrive navigation and infotainment system now also includes a touchscreen. What have become standard features on many less-expensive vehicles, however, are optional on the BMW — including blind spot monitoring and emergency front braking.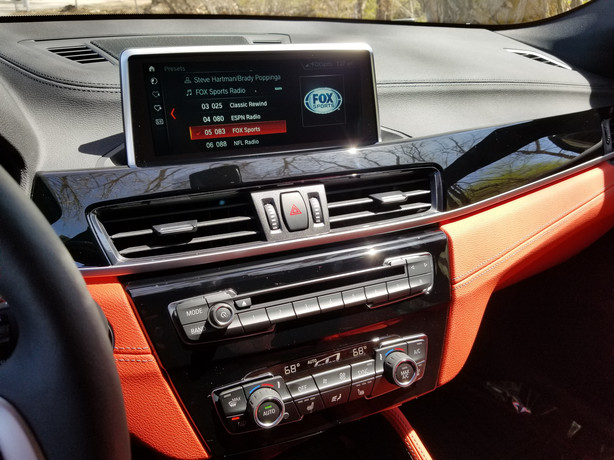 When you factor in the drivetrain and all-wheel-drive, styling, performance and the BMW luxury-dealer experience, the X2 offers a lot for a relatively low price of less than $50,000.
While I don't see a crossover in my future any time soon, the BMW X2 is a very fun car to drive and offers a level of elegance and performance that is tough to match for the money.
Specs
Vehicle type: four door, five passenger, all-wheel drive crossover
Engine: 2-liter turbocharged four-cylinder 16 valve engine
Transmission: eight-speed Steptronic auto with manual mode
Power: 228 horsepower and 258 pound-feet of torque
Performance: not available at time of review
Wheelbase: 105.1 inches
Fuel Mileage: EPA estimated city/highway - 21/31 miles per gallon
Warranty: 4 year/50,000 mile bumper-to-bumper; four-year roadside assist and three-year routine maintenance
Sticker price as tested: $49,120
---
Photos
0 Pending Comments
Sorry, we are not accepting new comments on this story, but if you have more to contribute please email
newstip@ksl.com
Showing of 9 comments
Sorry, we are not accepting new comments on this story, but if you have more to contribute please email
newstip@ksl.com