STRAWBERRY RESERVOIR — There is a once-a-year opportunity to see kokanee salmon in the stream at Strawberry Reservoir and learn more about them Saturday.
Kokanee are a greatly sought-after fish wherever they reside because they are a fun fish to catch and tasty off the grill, smoker, or frying pan. Other than Strawberry Reservoir, kokanee can be found in Causey, Porcupine, and Flaming Gorge reservoirs, to name a few.
During the spawn/fall migration, the fish develop a hooked jaw, or kype, and a green head to go with their very red bodies. During nonbreeding times, they are a silvery color with a dark blue back. The transition they make is fascinating and of interest to anglers and non-anglers alike.
These red spawners will be shown up close to those who visit the fish trap that day, and information will be given and questions taken by those in the facility.
A landlocked sockeye salmon, the kokanee are genetically identical to their sea-run species. Like most salmon, they die after spawning. But the egg-taking efforts of the Utah Division of Wildlife Resources helps replenish the salmon in existing lakes, and potentially introduce them into new waters.
Depending upon water temperatures, the eggs hatch between November and January, and the salmon will live a life cycle of approximately four years. After the hatchlings consume their yolk sacs, they will begin to feed on zooplankton, which are small aquatic animals, by filtering them through the fine combs found on the gills.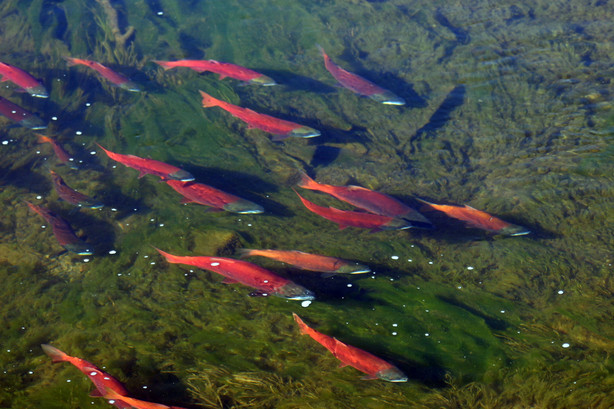 Their growth is rapid, and the Utah state record is 6 pounds, 5 ounces, and over 25 inches in length, out of Flaming Gorge Reservoir. But Strawberry Reservoir boasts of kokanee up to 5 pounds during the early summer, when fishing for them is best.
They frequently suspend in deep water approximately 25 to 40 feet down. Trolling is one of the most common methods for fishing for these salmon. Flashers or dodgers, trailed by small lures such as squid rigs are a hot item to kokanee anglers.
For more information, make a trip to the Strawberry Visitors Center this Saturday, Sept. 16, from 9 a.m. to 3 p.m. and see the miracle of the salmon spawn up close.
0 Pending Comments
Sorry, we are not accepting new comments on this story, but if you have more to contribute please email
newstip@ksl.com
Showing of 16 comments
Sorry, we are not accepting new comments on this story, but if you have more to contribute please email
newstip@ksl.com