MILLCREEK — The perfect cookie is part art, part science. For business partners Brandon Plewe and Clay Rockwood are best friends. "We've been friends since college," said Clay Rockwood. "It's been one of our dreams for a long time to do this, to work together, to start something from scratch."
But Goodly Cookies almost never came to be. Plewe gets quarterly infusions at the Huntsman Cancer Institute to strengthen his bones, a reminder of how far he's come.
Nine years ago, Plewe started having back pain. "I just got hit with this excruciating pain. It just felt like somebody hit me in the back," he said.
Newly married, Plewe had always been healthy and athletic. The pain got worse.
"We had no idea what was wrong," said Katie Plewe. "We felt helpless. We were going to doctors, they couldn't figure it out. It was bad."
Normally 5-foot-10, Brandon Plewe was shocked to learn he'd shrunk. "They're like, 'OK, you're 5'6".' And I was 4 inches shorter. I just thought, 'Something's really wrong.'"
It was multiple myeloma, a cancer formed by malignant plasma cells. Though doctors didn't tell him then, they didn't think he'd survive.
"In the end, I lost 6 inches in height," Brandon Plewe said. "They said there was a fracture in every single vertebra in my back."
After chemotherapy and a double stem-cell transplant, he beat it. The experience changed him. "When you're hanging on by a thread and you feel like your life is in the balance, it definitely puts things into perspective," Brandon Plewe said.
It got him thinking about his next steps.
He started the cookie company to give back and also to heal. "Cookie therapy," Brandon Plewe said. "I love making cookies, I love eating cookies."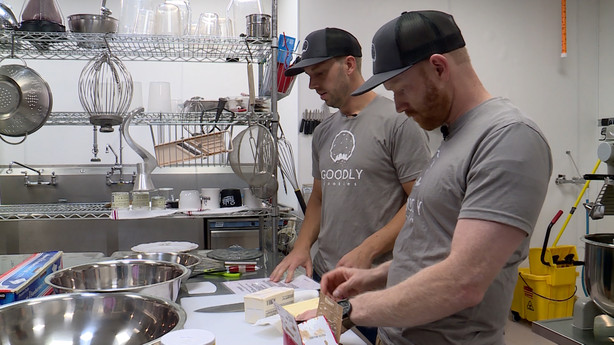 Goodly Cookies opened its doors last July and since then, orders have been pouring in.
"It was kind of the perfect storm," Katie Plewe said.
They offer four types of cookies, from chocolate chip to white chocolate raspberry. And a portion of every cookie they sell goes to fighting cancer.
"It's so meaningful and so fulfilling to have something you're so passionate about," Brandon Plewe said.
His illness also led to a career with the Huntsman Cancer Foundation, his day job, where Brandon Plewe raises money for cancer research.
Plewe knows some hard things in life are "just the way the cookie crumbles." But now he's turning it into something sweeter by the baker's dozen.
Plewe is in full remission. Goodly Cookies is open for pickup or delivery Thursday through Saturday, 7 p.m. to 1 a.m. in Salt Lake City. Find them online at GoodlyCookies.com.


Photos
0 Pending Comments
Sorry, we are not accepting new comments on this story, but if you have more to contribute please email
newstip@ksl.com
Showing of 9 comments
Sorry, we are not accepting new comments on this story, but if you have more to contribute please email
newstip@ksl.com