SALT LAKE CITY — Utah is leading the nation in the way it uses technology to enhance learning among students, according to a national education advocacy group.
In a report released Tuesday, Digital Learning Now gave Utah a grade of A- in its overall digital learning efforts. Utah was the first state to earn an A on the report and has done so every year for three years. Florida is the only other state to earn an A this year.
The report also praises a Utah program known as the Student Achievement Backpack, which, when fully implemented, will give parents and teachers access to information to better personalize instruction for students.
John Bailey is vice president of policy for the Foundation for Excellence in Education, the Florida-based program founded by former Gov. Jeb Bush that oversees Digital Learning Now.
Bailey said many states have made steady progress on improving opportunities for digital learning, but Utah has been "one of the best examples" in doing so because it embraced legislation early on to advance the use of technology in schools.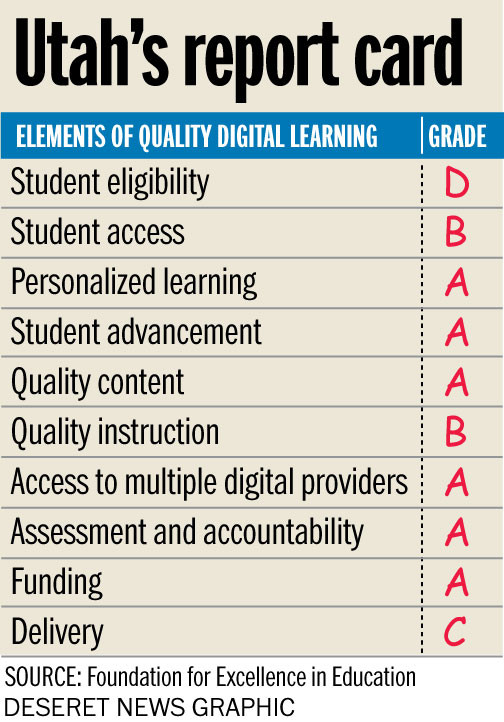 "We've seen a wave, a real surge of (digital learning) legislation over the last three years in states: well over 1,000 bills debated, well over 400 enacted," Bailey said. "States have been very busy trying to really expand the types of opportunities available for teachers and students that are offered by technology. That's a great trend, a very positive one."
Utah's overall grade is based on 10 "elements of high-quality digital learning," including student accessibility to digital content and online courses, personalized learning opportunities, quality in content and instruction, and funding. Utah earned either an A or a B in eight of the 10 categories.
The state, however, got a D in student eligibility, which is based partially on the number of students required to participate in digital learning. About 350,000 out of 620,000 students in Utah's public schools use digital learning in some form each day. Only five states earned a B or better in that category.
Room for improvement was also highlighted in Utah's infrastructure for supporting computer-based instruction, mostly in providing high-speed Internet access for all students and teachers. Utah earned a C in digital learning delivery.
But the state is gradually improving its weak points. Last month, state lawmakers commissioned an inventory of the tech infrastructure currently in place. That bill was originally intended to provide $75 million to help schools implement a one-to-one student device program, but it was amended to give state and education leaders a clearer picture of what Utah's needs are.
Utah made "huge advances" last year in improving access to digital learning for students statewide, especially for those who attend private schools or are home-schooled, Bailey said.
Utah's policies dealing with digital learning also serve as an example to other states, according to Erin Lockett, policy coordinator at Digital Learning Now. One such policy includes the Student Achievement Backpack, which lawmakers approved in 2013.
"It really is very unique and really the only kind of policy of its kind in the nation right now," Lockett said. "I think that's just a really great highlight for Utah."
The program takes existing student data and puts it into a single online location, allowing parents and educators to access metrics such as student demographics, course grades, course history and assessment scores. The program is being rolled out in phases, and parents are expected have access to it by June 2017.
Judi Clark, executive director of Parents for Choice in Education, said the Student Achievement Backpack will help teachers customize their instruction for each student and help parents be more involved in their child's education.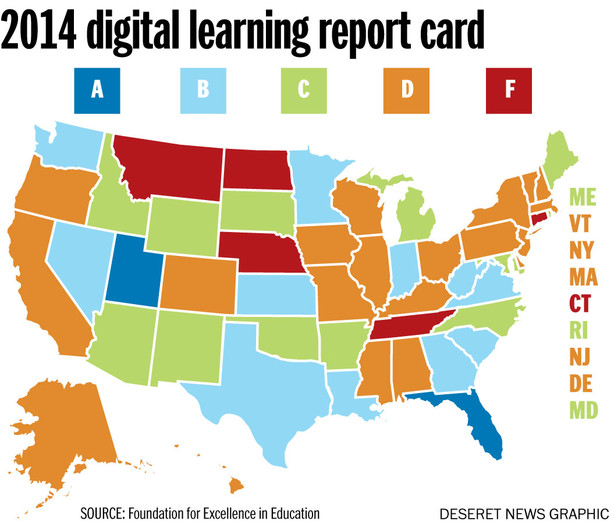 "Imagine having information about students on day one rather than having to get to know them for the first couple of months," Clark said. "How much more effective can our teachers be? How much more of a partner does it make our parents in their child's education when they have all of the records on their students?"
Sen. Howard Stephenson, R-Draper, has been an advocate for the program and other digital learning initiatives enacted through the Legislature. He said it's no surprise where Utah falls in the rankings on Tuesday's report, but it's not the whole story.
"The measures they use are good, but they're not complete. They don't acknowledge the most important components of Utah's leadership in digital learning," Stephenson said. "What they don't look at is the quality of online instruction, the kinds of things (that) are delivered through online means. They measure the quantity, but not the quality."
As an example, digital content can include using a PDF document, but that doesn't mean the program is interactive and adaptive to students' learning styles.
"There's a lot of stuff out there that's not meaningful in advancing student achievement," Stephenson said.
While Utah has maintained its position as a leader in digital learning, other states made significant strides in improving such programs for their students. From 2013 to 2014, nine states moved out of the F category, 14 states moved up a full letter grade, and half of all states improved their grades overall.
The report can be viewed at digitallearningnow.com.


Photos
0 Pending Comments
Sorry, we are not accepting new comments on this story, but if you have more to contribute please email
newstip@ksl.com
Showing of 5 comments
Sorry, we are not accepting new comments on this story, but if you have more to contribute please email
newstip@ksl.com