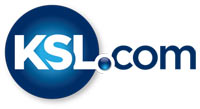 Remembering the top moments in Utah sports in 2017
December 31, 2017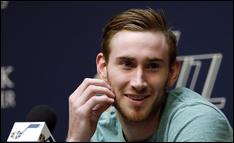 SPORTS LAKE CITY — Whether you are excited for the advent of 2018 or still clinging to the past glory of 2017, the past year has given Utahns plenty of memories that will last a long, long time.
For Jazz, Ute, Cougar, Aggie, Wildcat, Thunderbird and RSL fans, the season of looking back has commenced.
Here are a few of our top stories from 2017. Take a look back at them as we prepare for another upcoming year.
Gordon Hayward departs Utah for Boston
He was. Then he wasn't. Then he wrote a blog post for The Player's Tribune explaining why he left.
Gordon Hayward left Jazz fans stunned on a Fourth of July that will live in infamy. He turned his back on a massive billboard campaign by fans, a mega-contract by the Jazz, and the chance to team up with all-NBA center Rudy Gobert, who signed a long-term contract extension to stay in Utah earlier in the year.
Miller family establishes legacy trust for Utah Jazz
Don't worry, Jazz fans; Utah's NBA team isn't going anywhere like Boston anytime soon.
Gail Miller, owner of the Larry H. Miller Group of Companies, announced the transfer of the ownership of the Utah Jazz, Vivint Smart Home Arena and the family's long list of properties, into a legacy trust owned by the Miller family.
The trust, called the closest thing to "perpetual ownership" in the modern NBA, ensures the Jazz will remain a vital part of the Salt Lake Valley for generations to come.
BYU fires Heisman legend Ty Detmer after historically awful season
Not only was 2017 the worst season of BYU football since before the hiring of legendary coach LaVell Edwards, it also cost Cougar legend and Heisman Trophy winner Ty Detmer his job as offensive coordinator.
The Cougars finished in the bottom 10 nationally in most offensive statistical categories, and two days after a season-ending win at Hawaii, Detmer was relieved of his role as offensive coordinator. New offensive coordinator Jeff Grimes was then hired, and head coach Kalani Sitake cleaned house, retaining just tight ends coach Steve Clark and adding Aaron Roderick, Weber State's Fesi Sitake and UTSA's Ryan Pugh to the offensive staff.
Donovan Mitchell makes Jazz fans forget about Hayward
Not long before Hayward made official his departure, the Jazz traded up to draft a lengthy wing from Louisville whose dad coached in the New York Mets organization.
And it proved to be a season-defining move.
Donovan Mitchell has put together a rookie-of-the-year caliber season so far, averaging 17.9 points, 3.4 assists and 3.2 rebounds in 30 minutes per game for Utah (15-21) as it strives to replace Hayward's scoring impact.
Where he finishes is unknown. But Mitchell, who has united the state's basketball fans in support, is making an argument for NBA rookie of the year.
Matt Gay wins Utah's first-ever Lou Groza Award
Before 2017, Matt Gay held a number of titles: Utah Valley goal scorer, pro soccer prospect, trusted friend and proud Orem Tiger.
He can add one more title after a whirlwind six months: award-winning Utah kicker.
The former UVU soccer standout returned from an LDS Church mission and enrolled 40 minutes northbound on I-15 as a walk-on place-kicker for Kyle Whittingham.
What followed was a story that saw Gay catapulted to the top of the college football kicking world, ending ceremoniously with an award ceremony and the Lou Groza trophy, given to the nation's top kicker.
Weber State posts historic 11-win season, FCS quarterfinal appearance
It was a banner year for college football in Utah — at the Football Championship Subdivision level, at least.
Southern Utah (9-3) hosted its first-ever FCS playoff game, drawing the No. 8 national seed after being crowned co-champions of the Big Sky Conference with rival Weber State.
Those same Wildcats (11-3) made history of their own, hosting the opening round of the playoffs, taking to the road for a win over SUU, and pushing defending national champion James Madison to the brink before falling in the FCS quarterfinals.
Weber State's 11 wins are the most in program history, and prompted school administrators to sign head coach Jay Hill to a contract extension that will keep him in Ogden until 2023.
Mike Petke arrives at RSL
Just three games into the 2017 Major League Soccer season, Real Salt Lake made a change, firing Jeff Cassar and promoting Mike Petke from the second-division Real Monarchs.
The change was impactful, and RSL nearly made the playoffs until falling just a point short on the regular season's final day.
For his efforts, Petke earned a three-year contract extension, keeping him and his New Yorker family in the Salt Lake Valley for years to come.
BYU baseball advances to first NCAA Tournament since 2002
The BYU baseball team advanced to its first NCAA Tournament since 2002 with a West Coast Conference Tournament title, ending one of college baseball's lengthy droughts with games against Cal State Fullerton, Sacramento State and Stanford.
The Cougars finished 38-21 in 2017.
Utah Royals FC brings pro women's soccer to Wasatch Front
Real Salt Lake will add a third top-level professional sports franchise to the state of Utah in 2018, relocating a folded National Women's Soccer League franchise in Kansas City to Utah in time for the April debut.
The team, dubbed Utah Royals FC, will play the 2018 season in Rio Tinto Stadium, and has already signed U.S. women's national team co-captain Becky Sauerbrunn and international fixture Kelley O'Hara. The team will also be coached by legendary women's soccer coach Laura Harvey.
Jazz win first playoff series since 2010
Hayward's final complete series in Utah was one for the ages.
The Jazz took down the L.A. Clippers, winning a dramatic 104-91 victory in Game 7, to win their first NBA postseason series since 2009.
Sure, Utah went on to a humiliating sweep by Golden State, and sure, it featured a heavy dose of Hayward — who would become Public Enemy No. 1 by many Jazz fans just a few months later.
But it was a reason to celebrate in Salt Lake City — and KSL Sports even made a song about it.
BYU, Utah women's volleyball advance to Sweet 16
For six-straight years, BYU women's volleyball teams have advanced to at least the final 16 teams in the annual NCAA postseason tournament.
In 2017, the Cougars had a little local company.
Both BYU and Utah were seeded teams in the tournament, with the Cougars grabbing the No. 13 overall seed for the second-straight season and Utah drawing the 11th seed and hosting the Utes' first-ever subregional.
Utes send seven players to NFL draft
Utah's football team set a record last April — four months after the season's end.
The Utes had seven players drafted in last April's NFL draft, including four offensive linemen. When Sam Tevi's name was called with the No. 190 overall selection by the Los Angeles Chargers, the Utes had entered unprecedented territory that began with the first-round selection of offensive tackle Garett Bolles.
UHSAA votes to sanction lacrosse by 2019; Utes add program, too
For only the second time in 27 years, the Utah High School Activities Association elected to expand.
The association will add boys and girls lacrosse to the list of state-sanctioned sports in time for the 2019-20 school year, marking the 11th sport in state history.
Lacrosse was the first sport added since girls golf came under the UHSAA umbrella in 2008. The teams are anticipated to play in the spring, when current club competition takes place.
In June, the University of Utah became the first program in the state — and the Pac 12 — to add men's lacrosse as a fully funded Division I sport. The Utes, who will compete in one final season of the club-level MCLA before joining the NCAA in July 2018, become the western-most Division I team in the nation and just the third in the Mountain time zone.
Aggies' Koby McEwen wins MWC freshman of the year
For the most part, Utah State basketball had a forgettable season in 2016-17.
But one player stood out.
Koby McEwen, the former Wasatch Academy star from Toronto, Ontario, was tabbed the Mountain West's freshman of the year in a unanimous vote by league media.
McEwen averaged 14.4 points, 5.1 rebounds and 3.0 assists while leading the Aggies to a 13-15 overall record and the No. 8 seed in the conference tournament in Las Vegas.
BYU basketball stuns No. 1 Gonzaga in Spokane
There wasn't much to remember about the Cougars' hoops season, either, with a second-straight NCAA Tournament snub and first-round NIT exit.
But for one night, at least, BYU was the talk of the college basketball world after a stunning 79-71 upset win over No. 1 Gonzaga in the regular-season finale.
Eric Mika had 29 points and 11 rebounds, but eventually left school early to pursue a pro career, and Gonzaga lost its only game of the regular season (29-1) before a run to the national championship against North Carolina.
And even at nearly 2 o' clock in the morning, there was a huge celebration in Provo.
Utah softball advances to Super Regional
Both BYU and Utah advanced to the NCAA Softball Tournament in 2017.
The Utes did one better than their rivals, advancing to their second-consecutive Super Regional — at the expense of the Cougars.
Utah lost to Washington in the Super Regional in Seattle.
Olympic champion, Park City native Steve Holcomb's mysterious death
Olympic bobsled champion and Park City native Steve Holcomb, who piloted the sled Night Train to the four-man bobsled gold medal at the 2010 Winter Games in Vancouver, died in his sleep at the age of 37 last May near the Olympic Training Center in Lake Placid, New York.
Holcomb's mysterious death was investigated for several months, but showed no signs of foul play. Preliminary tests found pulmonary congestion and sleeping medication in his bloodstream as the bobsled world mourned the untimely loss of an Olympic legend and all-around nice guy.