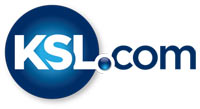 BYU notebook: Beau Hoge next QB casualty of 2017; Critchlow, Wilstead top depth chart
November 13, 2017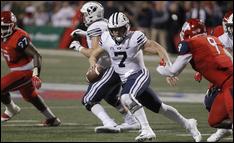 PROVO — Joe Critchlow's first career start at quarterback signaled to the BYU coaching staff that he was ready to keep proving himself.
He'll get the chance the rest of the season, without dispute.
BYU coach Kalani Sitake announced Monday during his weekly press briefing that backup quarterback Beau Hoge is done for the season with a toe injury. The redshirt sophomore from Fort Thomas, Kentucky, was in a three-way quarterback competition with Critchlow and freshman Kody Wilstead to start last week against UNLV.
"He had a toe injury, and it's been lingering," Sitake said of Hoge. "It just got worse before the Fresno game, and now it's bad enough that he won't be able to heal in time to be back."
Critchlow earned the start in the 31-21 win in Las Vegas.
Wilstead was listed as Critchlow's primary backup on the week's depth chart; sophomore Koy Detmer Jr. will also be in the mix for backup minutes behind the two freshmen.
"Koy is probably one of the most unselfish people I've ever been around," Sitake said of the son of former Colorado standout quarterback. "He's all about the team … and they say his dad was the same way. He's smart, he gets the game of football, he understands it, and he'll be a great coach one day."
Critchlow completed 14-of-22 passes for 160 yards and a touchdown in his debut against the Rebels (4-6), and he's currently completing 60 percent of his passes for 219 yards on the season.
Running back Austin Kafentzis, a former star quarterback at Jordan High, will continue to run the Cougars' Wildcat package as well.
Hoge has the second season-ending injury to befall the Cougars (3-8) in two weeks, joining former starter Tanner Mangum. The junior from Eagle, Idaho, suffered a season-ending Achilles' tendon injury in the Cougars' 20-13 loss to Fresno State.
Mangum finishes the season with 1,540 yards and eight touchdowns.
But the players have all the confidence in Critchlow as they prepare for the final two games of the season, including Saturday's home finale against UMass (1:30 pm.; BYUtv/KSL Newsradio).
"He knew they were coming, took the hit and threw great passes. It was great for him and us to put confidence in him, and now he can have confidence himself," offensive lineman Tuni Kanuch said. "Getting hit is not that bad; we have pads. And people are going to catch his passes."
Burning the redshirt … maybe
Wilstead's inclusion as the primary backup is by design, Sitake said. While the former Pine View High standout entered the season looking at a redshirt possibility, he will be the first to play quarterback behind Critchlow — should the need arise.
"We're just going to go with it; if he has an opportunity to play, he's going to get in the game," Sitake said of Wilstead. "The redshirt is pretty much off right now."
Miner check-in
Kanuch has kept a mind's eye on his alma mater, Bingham High, as the Miners try to live up to his (and other former players') legacy of state championship.
Bingham will face East at 2:30 p.m. MT Friday in the Class 6A state championship at Rice-Eccles Stadium. It could be the undefeated Miners' fourth title since 2013.
"I love Bingham and the coaches there, for everything that they've taught me," Kanuch said. "I keep up with the coaches as much as the school and current players, but they're a great team still."