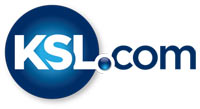 High-friction pavement saves cars from sliding off dangerous road
April 9, 2013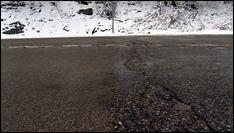 LOGAN — The Utah Department of Transportation is testing an innovative pavement to make a dangerous curve in Logan Canyon safer for drivers.
The curve is sharp, and when the weather is bad, extremely slick. Dozens of cars have slid off the road in the area and into the river in recent years.
"A lot of vehicles come into the curve at high rates of speed," said UDOT Region One director Kris Peterson. "As they get to that tight corner they slide off."
UDOT installed a cable barrier last summer to prevent cars from sliding into the river. Colleen Larkin went into the water a year ago.
"I tried to correct," she told KSL last year. "I overcorrected and went into the river."
On New Year's Eve in 2011, a father had to rescue his children from the frigid waters with the help of good Samaritans.
UDOT officials determined it was time to take action. Last summer, crews laid down high-friction pavement on a quarter-mile stretch of the road through the curve.
"It's a lot higher of a friction than we normally see on a typical roadway," said UDOT engineer Kelly Barrett.
Crews spread an epoxy before layering it with grit - binding it to the road.
"That extra grit, if you will, will provide a better opportunity for the tires on the car to hold as they come around this corner," said UDOT spokesman Vic Saunders.
Utah Highway Patrol officials said in the two years prior to putting down this surface, there were as many as 30 slideoffs in the area. Since the installation of the new pavement, only a couple of accidents have occurred.
"We can put this treatment on without having to resurface the entire roadway and improve the traction in that specific location," said Peterson.
The price tag: $100,000 for a quarter-mile treatment and $25,000 for the cable barrier and new signs.
UDOT is testing the same three-pronged approach in Spanish Fork Canyon.
"Regardless of the conditions, it's a higher friction," said Barrett.
The new pavement gives tires a better grip.
"We have a combination there that we really think is a winner in terms of keeping people on the roadway," said Saunders.