Estimated read time: 2-3 minutes
This archived news story is available only for your personal, non-commercial use. Information in the story may be outdated or superseded by additional information. Reading or replaying the story in its archived form does not constitute a republication of the story.
CLEARFIELD -- Clearfield police say they're noticing a slight increase in the number of cars being broken into overnight. Detectives say the crooks will notice something valuable in the car, then break in to get it.
KSL spoke to one victim this afternoon. Of all the items taken from him, there's one that can't be replaced -- and it's the first thing most people say they would take from their homes in a fire or emergency: pictures.
Deryck Belnap, the victim, says whomever broke into his car took his external hard drive. That hard drive contained his honeymoon pictures, and they were the only copies.
Belnap said, "I had a brand new pair of shoes sitting there and I remember it was sitting on top of my laptop bag. And I [said], 'Oh great. You're kidding me.'"
Even though his laptop, iPod and brand new tools were gone, it was his missing external hard drive that really turned his stomach -- and it made his wife cry.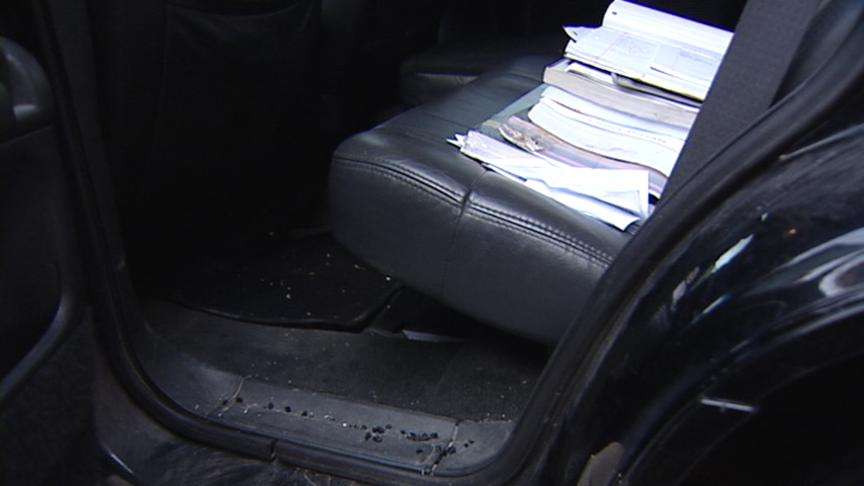 "She's like, 'Our honeymoon pictures are on that,' and at that point my heart sank, because she got all sad," Belnap said. "[It's] like, how do you replace that?"
Belnap and his wife have only been married eight months and saved a lot of money so they could honeymoon in Maui. Now, the only pictures they have of that special time is what they can remember.
"It's like somebody reached into our lives and said, 'This week you had a lot of fun, but we're going to take it away,'" he said.
Greg Krusi, assistant chief of the Clearfield Police Department, said, "A lot of these people, if they'll look into your car and of they see something of value, there's a good chance you're going to lose it."
Krusi says in the past few weeks, he's noticing more of these types of crimes.
He suggests taking valuable items inside your house, or at least putting them in your trunk, to prevent yourself from losing something that can't be replaced.
"People have stuff on their computer that's a lot of sentimental value, and it ends up being gone and gone forever," Krusi said.
Belnap hopes his case is different, that whoever took his hard drive will realize they have something money can't replace.
"I just want the hard drive back, just so we can have those photos," he said.
Detectives say they'll check in pawn shops and other places to see if they can find the hard drive and other items.
At this point, though, Belnap is just hoping the burglar brings the hard drive back or drops it off at the police station. If so, no questions asked.
E-mail: acabrero@ksl.com
×
Most recent Utah stories