Estimated read time: 1-2 minutes
This archived news story is available only for your personal, non-commercial use. Information in the story may be outdated or superseded by additional information. Reading or replaying the story in its archived form does not constitute a republication of the story.
Bruce Lindsay Reporting Salt Lake's Crossroads Mall will get lively tomorrow. The crowds will be entertained by two lunch-time performers who wowed our Bruce Lindsay.
The mall performers draw double takes, stares, and the repeated question, "How old are they?" Big talent comes in little packages. Meet Jenny and Jerry Fu. The answer, by the way, is 11 and nine.
Their virtuosity comes from both nature and nurture. Their grandfather is a pianist in China, and their mom teaches piano in Cottonwood Heights. But the kids insist piano is their choice.
Jerry Fu: "My mom had other students."
Jenny Fu: "And then we thought that was cool. And they played really good."
Jerry: "And so we wanted to play."
Jenny: "Yeh."
Jenny's been playing for five years, about three and a half for Jerry. They just returned from a competition in Los Angeles and the trophies show they cleaned up, big time, again!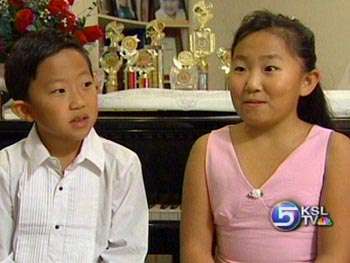 Jerry & Jenny Fu, Piano Champions: "This one was my open solo, I got first place. And this one's I got first place on rock. It's fun to compete. It's really fun to compete. The most fun part is we get to see big trophies. And we get to go to fun places."
Tips in the mall help fund those competition trips.
"And sometimes we put our money into our bank account for college."
For you parents putting money into music lessons, for kids who don't sound like the Fus, this reminder, even they have to practice--every day!
You can see Jenny and Jerry Fu perform tomorrow during the lunch hour at the food court of Crossroads Mall.
×
Most recent Utah stories