Estimated read time: 2-3 minutes
This archived news story is available only for your personal, non-commercial use. Information in the story may be outdated or superseded by additional information. Reading or replaying the story in its archived form does not constitute a republication of the story.
Sam Penrod ReportingLDS Church President Gordon B. Hinckley dedicated a new temple today in Newport Beach, California. The new temple becomes the 122nd belonging to the Church Of Jesus Christ of Latter-day Saints.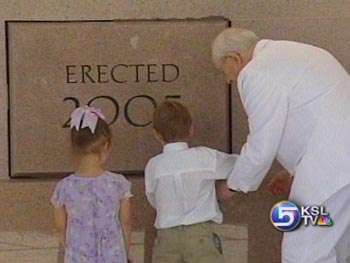 The new temple is located not far from the campus of UC Irvine and has become a prominent landmark in the community. It will primarily serve 50-thousand LDS Church members in Orange County, and it becomes the sixth LDS temple in California.
It was a day of celebration for LDS church members in Southern California, for the opening of a new temple. President Gordon B. Hinckley led the traditional cornerstone ceremony outside, signifying the completion of another temple of the church.
President Gordon B. Hinckley, President, Church of Jesus Christ of Latter-day Saints : "Now Brother Faust, see if you can improve on that."
President James E Faust, First Presidency: "That will be hard to do."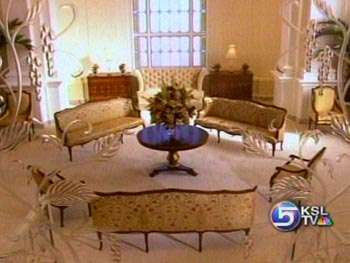 President Hinckley also invited two young children from the crowd to help him out.
President Gordon B. Hinckley: "Just take that and scrape it off it there like that there that's it, good."
Derek Reese: "It was like a Christmas miracle because the prophet got to put his hand on my shoulder and I got to put on half of the stone."
For both of them, it is something they will never forget.
Rachel Dangl: "It was like I was in heaven, fixing heaven up."
Sherrilynne Dangl: "My girls have always wanted to meet him and be in his presence. He is their role model and it was really neat for them to be in his presence and for me to witness that as a mom."
With its pink colored granite exterior and a shortened steeple, the Newport Beach temple has a unique look from other temples. Both changes were required to meet the requirements of local zoning laws. Inside, the temple is 18- thousand square feet.
During a month long open house, 175- thousand people took tours of the temple.
Randall G. Harmsen, President, California Anaheim Mission: "I think it will add significant, significant value to not only the members, but the non-members who will feel of its magnificent presence."
This is the second temple President Hinckley has dedicated this month. Three weeks ago he was in Nigeria, and next week he will re-dedicate the temple in Samoa, so it is a busy time of traveling for him right now.
×
Most recent Utah stories