Estimated read time: 1-2 minutes
This archived news story is available only for your personal, non-commercial use. Information in the story may be outdated or superseded by additional information. Reading or replaying the story in its archived form does not constitute a republication of the story.
Gene Kennedy ReportingA Utah soldier who lost his leg in the Iraq war came home this afternoon.
Specialist Eric Lund was wounded July 16th in Kirkuk, Iraq. A roadside bomb struck his humvee while on a security mission, an attack that came during a violent weekend in Iraq.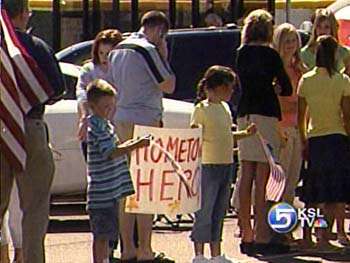 A Cedar City soldier died during the incident. Also injured was Sergeant Christopher Olsen from Logan.
But today is Eric Lund's moment. There was a big "welcome home" party in Providence today, and our Gene Kennedy was there.
Providence, Utah is where Eric Lund grew up; it's the same city he left when he went to war; and it's the same city that is welcoming him home.
He rode into town on a Humvee with a full escort. Also, literally, a parade of supporters. Hundreds of people lined the street. It was quite the sight.
"How good it is to be on Utah soil," the soldier says. He arrived at Salt Lake International airport earlier today to lots of hugs and cheers from family.
He was deployed last summer and spent seven months in Iraq. As a result of a roadside bomb attack, doctors had to amputate his left leg. But looking at him, you wouldn't know he has a prosthetic. He was walking just fine. He praised his doctors, and still can't believe all the support he's had.
Specialist Eric Lund: "Be grateful for every day you get. You never know when this beautiful life comes to an end. Just take advantage of every day. Be grateful for your family."
×
Most recent Utah stories