Estimated read time: 2-3 minutes
This archived news story is available only for your personal, non-commercial use. Information in the story may be outdated or superseded by additional information. Reading or replaying the story in its archived form does not constitute a republication of the story.
KEARNS -- A deadly shooting prompted a manhunt in Kearns, where police say a man shot his ex-wife's boyfriend to death. Police caught the suspect in West Valley City just after 10 p.m.
A gunshot broke the silence around 5:30 p.m. Friday in what neighbors say is a usually quiet Kearns street.
"We heard a pop and a bang, and then we heard a whole bunch of screaming and tires squealing," said neighbor Shelby Mason, "then the ambulance and cop sirens."
Police say as 26-year-old Joshua James Montoya's ex-wife was dropping off their children at his home near 5700 South and 4500 West, Montoya waited until the kids were in the house, then walked to her SUV and fired a gun into the vehicle.
"During that exchange of custody, it appears that a dispute occurred in which a firearm was brandished and we have a gentleman who has been shot as least one time in the chest," said Salt Lake County Sheriff Jim Winder.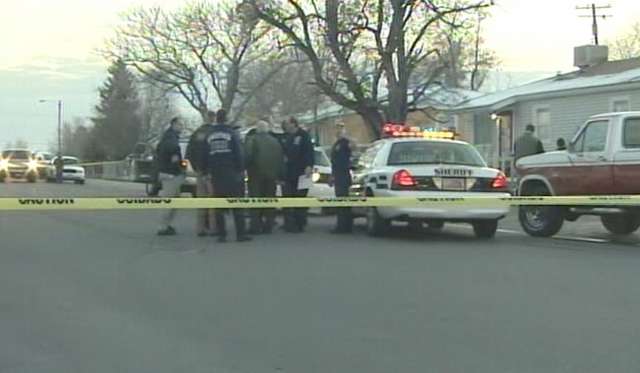 Montoya's ex-wife's boyfriend, 26-year-old Amos James Pacheco, was taken by ambulance to the hospital in extremely critical condition. He died a short time later.
The shooting prompted a manhunt for Montoya. Police blocked off the street and called in dozens of officers to search the area.
Police say he took off on foot, and said they believed he was armed and dangerous.
Armed officers searched surrounding homes and used police K-9s to comb the area.
Officers tracked Montoya down at a house at 4136 S. 6000 West in West Valley City on a tip. They surrounded the house and watched him get in a car and leave.
Officers followed him, pulled him over and arrested him without incident.
Police say Montoya has a criminal history, involving a domestic violence assault in 2006, in which he pleaded guilty.
-----
E-mail: jstagg@ksl.com
×
Most recent Utah stories