Estimated read time: 2-3 minutes
This archived news story is available only for your personal, non-commercial use. Information in the story may be outdated or superseded by additional information. Reading or replaying the story in its archived form does not constitute a republication of the story.
DRAPER -- A man who pleaded guilty to murdering a chef two decades ago could be paroled, but the victim's family is hoping that will never happen.
Liz Aguilar was only 8 years old when her father was murdered. Twenty years later, she still lights up just thinking about him.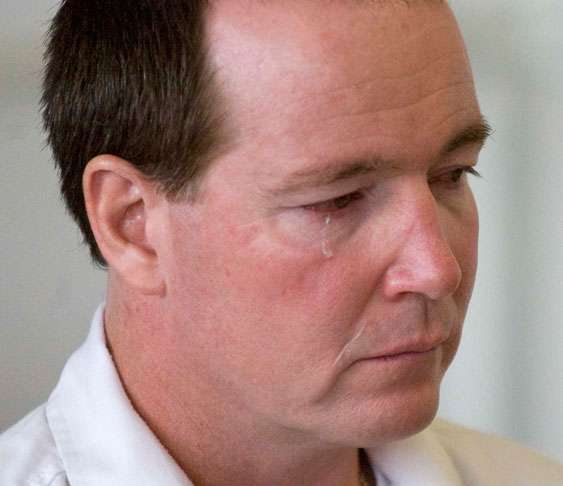 "He was just a good, kind-hearted person," Liz said. "On our birthdays, he would bring us pie, whatever pie we wanted; 'cause it was Marie Callender's, of course."
Victor Aguilar was a chef at Marie Callender's in Salt Lake. On March 3, 1990, Aguilar got to work and surprised two men trying to burglarize the restaurant. One of them, Thomas Noffsinger, also known as Thomas Trujillo, stabbed Victor five times and slit his throat.
Noffsinger took a plea deal, which spared him from the death penalty, and was sentenced to life in prison. Tuesday, at a parole hearing, he made a tearful apology.
"I feel deeply sorry for what I've done, for what I've caused," Noffsinger said.
Victor Aguilar's family forgives him, but wants him in prison for life.
"This man doesn't deserve freedom. He took our freedom away, our freedom to live our life the way that we deserve," Liz Aguilar said.
"That has been my life, walking alone through my life, crying, hoping, dreaming that one day he would come and comfort me," said Julia Aguilar, Victor Aguilar's widow.
Liz Aguilar says Noffsinger is a violent man, capable of anything.
"Tom, you have other victims that lie in graves dug by you, others' blood that stain your soul," she said.
Annette Hill

Disappeared May 12, 1989
Police found her purse with blood on it at Noffsinger's apartment
Noffsinger is a person of interest in the case
Liz Aguilar was referring to Annette Hill, who disappeared on May 12, 1989. While investigating Victor Aguilar's murder, police found Hill's purse, with blood on it, at Noffsinger's apartment.
Noffsinger said he didn't know Hill, and gave an explanation for having her belongings.
"Back then, I was always going through people's cars; car hopping, stealing whatever I could out of cars," he said.
Hill's family, who was at the hearing, didn't buy it. They've waited 20 years for answers, something they may never get.
"We would have hoped, and still hope that eventually, if he were responsible in any way for the disappearance of our sister, that he would simply be willing to admit that and come clean," said Allen Hill, Annette Hill's brother.
Sandy police say Noffsinger is still a person of interest in the disappearance of Annette Hill, but the case is not being worked actively.
As for Tuesday's hearing, the board won't make a decision for several weeks. The parole board member told Noffsinger the crime was such that he may never walk out of prison.
E-mail: syi@ksl.com
×
Photos
Most recent Utah stories