Estimated read time: 2-3 minutes
This archived news story is available only for your personal, non-commercial use. Information in the story may be outdated or superseded by additional information. Reading or replaying the story in its archived form does not constitute a republication of the story.
BOUNTIFUL -- An oversized load, slowly moving through Utah on its way to Canada, caused some traffic problems Friday afternoon. It was quite the sight for some people in Bountiful.
Near 400 North and 500 West in Bountiful, drivers ran into some traffic when the truck carrying an oversized load experienced a mechanical problem.
Todd Franks of Contractors Cargo said, "Cars break down, too. This is just a lot more noticeable when it happens."
It's quite the sight. The load on the truck is a refinery reactor column. The column is 158 feet long, 15 feet in diameter and weighs 330,000 pounds.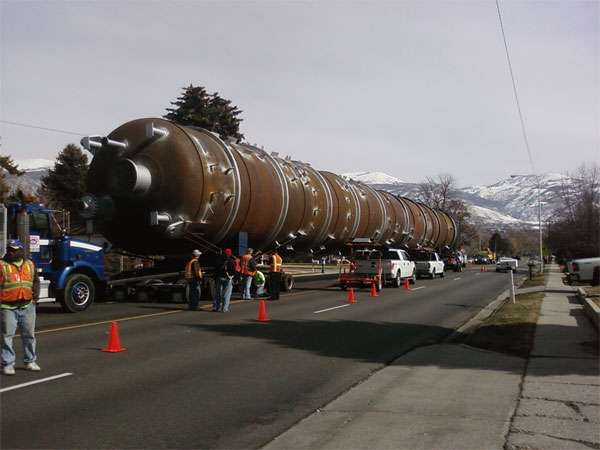 It's made by Mark Steel in Utah and is headed to a refinery in Saskatchewan, Canada.
The column is so heavy and tall the truck can't go over or under bridges, so it has to take side roads.
Early Friday afternoon a steering unit in the truck went down, keeping the wheels from turning and maneuvering any turns.
"That just steers, the back-end steers," Franks said. "Without the steering motor able to steer it, you can't proceed any further because of the length of the load. [The truck] is 220 feet long."
Crews expected a delay of half a day, but the problem was fixed in about an hour. One lane of traffic was shut down in both directions during that time. Then the truck moved on its way, moving about 20 miles an hour.
A number of utility crews waited ahead of the truck and moved power lines out of the way.
"It takes a company crew of approximately 10 to 12 guys," Franks said. "Then you have Rocky Mountain Power, you have Excel Energy, Qwest, and all of the linesmen, and they lift every wire because of the height of the load."
Mark Steel said it sells these columns mostly to refineries in Utah. It ships them out once every few years, but this may be the furthest one of them has traveled.
It'll take about three-and-a-half days to get through Utah, so if you're heading up north, you may be able to see it pass through.
E-mail: syi@ksl.com
×
Photos