Estimated read time: 2-3 minutes
This archived news story is available only for your personal, non-commercial use. Information in the story may be outdated or superseded by additional information. Reading or replaying the story in its archived form does not constitute a republication of the story.
SALT LAKE CITY -- Should state lawmakers raise the tobacco tax or dip further into the rainy day fund to save education? A powerful business group says lawmakers should do both, but the governor and some legislators aren't so sure.
It's not often the state's leading business group, the Salt Lake Chamber, calls for new taxes; but that's exactly what it did Wednesday.
The Chamber is urging state leaders to hike the tobacco tax $1 from its current rate of 69 cents. It says that will raise about $40 million a year and help prevent potential higher education layoffs of nearly 1,400 faculty members and staff.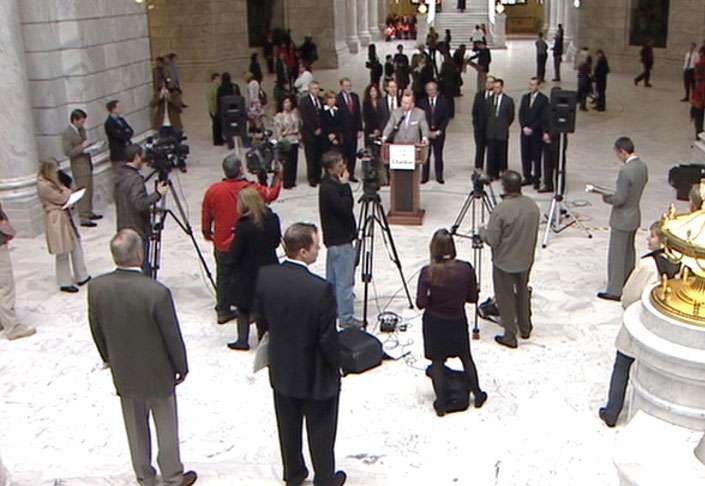 "My fear is that all this investing we've done in education over the last decades is going to come to a halt and we're going to lose that competitive advantage that we have in our workforce, which is our No. 1 tool we have in our toolbox for economic development," says Jeff Edwards, president and CEO of the Economic Development Corporation of Utah.
The Chamber also wants lawmakers to tap into the rainy day fund for $50 million to meet new, lower revenue projections.
"Ladies and gentleman, it's raining. We need to make sure that we take care of our children and our young adults. We need to make sure that we're not taking a step backwards," says Lane Beattie, president and CEO of the Salt Lake Chamber.
Many lawmakers seem ready to look at either option.
---
Increasing the tobacco tax from its current rate of 69 cents per pack of cigarettes to the national average of approximately $1.40 would generate an estimated $40 million for the state.
–Salt Lake Chamber
---
"The battle over there is how much is it going to be? So, is a dollar the amount in the Senate?" asks Rep. Paul Ray, R-Clearfield. "I'd like to think we're going to be able to keep it as a dollar as we go through; when all is said and done, we'll come out at $1.70 a pack here in Utah."
"When you have a business organization step up and call for targeted tax hikes, I think it's significant," says Senate Minority Leader Pat Jones, D-Salt Lake City.
Others worry about drawing too much from the rainy day fund, or upping anyone's taxes.
"Where do you get the money from? And if by taking the money away from taxpayers, and thereby chill the recovery that were occurring, then you just spiral further in debt," says Sen. Lyle Hillyard, R-Logan.
Gov. Gary Herbert reiterated his "no new tax" stance Wednesday, telling the Deseret News he's prepared to veto a cigarette tax. He said it would hurt the state's economic recovery. Instead, the governor favors taking more from the rainy day fund and delaying some road projects.
E-mail: jdaley@ksl.com
×
Related links
Related stories