Estimated read time: 2-3 minutes
This archived news story is available only for your personal, non-commercial use. Information in the story may be outdated or superseded by additional information. Reading or replaying the story in its archived form does not constitute a republication of the story.
Samantha Hayes reportingThe Utah County Sheriff's Department says it's cracking down on rave parties, where hundreds of people gather for music and often drugs.
The agency broke up one such party over the weekend. But people who were there say the officers used excessive force, injuring and terrifying people with their tactics.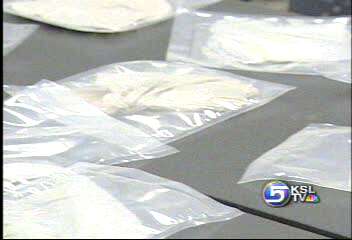 No matter how you define it, this was a big party with live music, a laser light show, and hundreds of people in the Diamond Fork area in Spanish Fork Canyon.
Yancy Childs/ Arrested: "Just trying to promote the music scene."
The party was on Yancy Childs's land. His family leased it to a promoter for what they call a "music event." Police saw it as something quite different.
James Tracy/ Utah County Sheriff: "We found cocaine. We found marijuana. We found mushrooms, psychadelic mushrooms that were being used and sold there."
But when officers and SWAT teams moved in to break it up, conflicting stories arose about what happened.
A video was taken during a confrontation with law enforcement. You can hear the police helicopter overhead.
Cody Childs/Arrested: "Some of them were dropping out of the chopper in camo[flauge] and night vision, and had full auto guns. [They were] knocking people down and telling people to get out of here."
It's difficult to see on the video, but witnesses say a woman on the ground wearing a red shirt was being kicked in the stomach by officers.
James Tracy/ Utah County Sheriff: "I saw nobody being kicked."
Yancy Childs: "She had a broken nose, lump on her head, and bruises on her side. It's more like Gestapo tactics instead of coming in and checking it out and making sure everything's okay."
Officers watched the same video and deny any wrongdoing.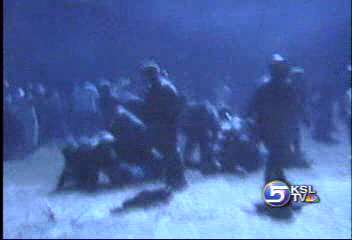 James Tracy/Utah County Sheriff: "There were no incidents where officers struck anyone. There were no incidents where they used any batons. There were no incidents where any gas was used. We refute those. Those are all incorrect statements."
Organizers say EMTs and security were contracted for the event. But the sheriff says they never acquired a county permit to host such a gathering.
×
Most recent Utah stories