Estimated read time: 2-3 minutes
This archived news story is available only for your personal, non-commercial use. Information in the story may be outdated or superseded by additional information. Reading or replaying the story in its archived form does not constitute a republication of the story.
NORTHERN UTAH -- Many in Northern Utah woke up to a surprise snowstorm Thursday morning and to headlines about the incredible snowfalls on the East Coast.
It's ironic, then, that snowpack numbers in Northern Utah are grim and almost certain to stay below normal the rest of the year.
In spite of Thursday's modest storm, those who hate snow are having a good year in Northern Utah. The snowpack is remarkably poor. But our water supply situation is good, bailed out by water that went into storage last year.
The snow was enough to complicate Thursday's morning rush with up to 3 inches falling in the valleys and 6 inches in the mountains.
But it's not enough to give even a feeble boost to mountain snowpacks in Northern Utah.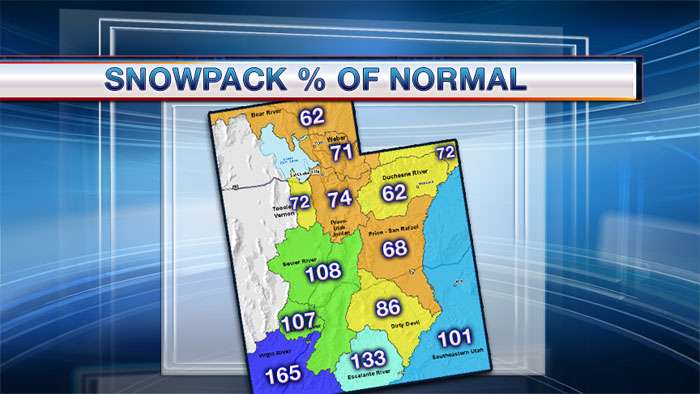 Tim Bardsley, a hydrologist with the Utah Snow Survey, said, "We tend to have extremes, and this is a year of extreme. And it's extremely poor, unfortunately, for the northern part of the state."
The numbers reveal a strong pattern this year. In northern mountains, snowpacks range from a dismal 62 percent of normal to a disappointing 74 percent. In the south, it's way above 100 percent of normal.
"The snowpack in the south is doing phenomenal. And that's a direct result of the storm track that we've seen in Utah this year," said Brian McInerney of the National Weather Service.
That track steered most storms away from Northern Utah.
"We've had a blocking high pressure ridge over most of the state, the northern part, for really almost this whole year," McInerney said.
So what are the chances that things will turn around by the end of the winter and become a normal snowpack? Well, just about zilch.
"It is very unlikely," Bardsley said. "We can hope to get to closer to normal."
The chances of recovering to a normal snowpack are as low as 3 percent in some places. Consequently, runoff is predicted to be very poor, especially because soils are exceptionally dry and will soak up a lot of the snowmelt.
But there's good news where it counts: Most reservoirs have a lot of water left over from last year.
"We're in really good shape. Even if we have a below average year, we have reservoir storage that is in excellent shape," McInerney said.
So it seems likely we'll get through our winter drought without too much pain. The long-range forecasts, however, don't show much change. No major storms are expected anytime soon.
E-mail: hollenhorst@ksl.com
×
Related links
Related stories