Estimated read time: 3-4 minutes
This archived news story is available only for your personal, non-commercial use. Information in the story may be outdated or superseded by additional information. Reading or replaying the story in its archived form does not constitute a republication of the story.
SALT LAKE CITY -- A toddler pronounced dead on arrival at the hospital is now out of a coma. The Provo boy drowned in a bathtub, was found lifeless by his mother, but has fought his way back.
The Staker Family's roller coaster experience of nearly losing a son is something they hope will inspire others to never let their guard down. They are sharing their story, realizing they are lucky to get a second chance.
"We've been here for a long 12 days, wondering what we were going to have left of this little boy that we love," Sara Staker said Thursday.
Just three days ago, her son, 16-month-old Bronson, was in a coma and on life support after nearly drowning in a bathtub on Jan. 30.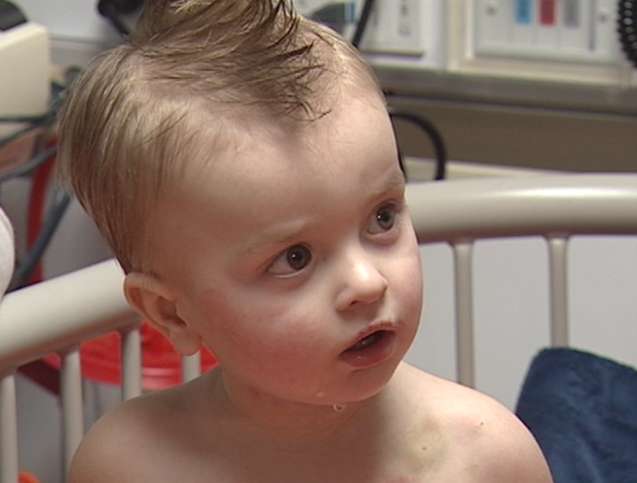 "When he arrived at the hospital -- they had not been able to get a pulse and [couldn't] get him to breathe -- and so when he arrived at the hospital, he arrived DOA (dead on arrival)," Sara explained.
It was a typical Saturday morning the day the accident happened. Sara was in the middle of the chores and got distracted for just a moment while her children were in the bathtub.
"When I walked in that bathroom, I absolutely knew that he was gone. He was white. I remember picking him up, and he had his eyes rolled back in his head. He was completely limp and completely unresponsive," Sara recalled.
As she wrestled with the guilt of leaving her son unattended, she turned to typing out her emotions on a blog.
"I realized I was sobbing and relived the experience, and as I typed, it was real again," Sara said. "It helped me to sort through my feelings and try to put things in perspective and it was very, very therapeutic."
Sara's family and friends shared her blog with others. Soon, thousands were reading every day; many moms, sharing her nightmare, because the time they left their child alone in the tub nothing happened.
"I know I am a good mom. I know that I love my boys more than anything in the world, but I allowed myself to get distracted, and that's the bottom line; and maybe that's what resonates, because every mom has been distracted at some point," Sara said.
As Bronson continues his recovery, the Stakers are embracing what they call a miracle.
"It's all because of the love and prayers that have been given on his behave. We really feel like we have been given a second chance," Sara said.
"Hug your babies a little tighter," she continued. "Give your children a little extra squeeze. Be a little more patient and diligent and a little less distracted by the things that will wait until later."
Doctors are optimistic about Bronson's long-term recovery, but it will take time. He will likely remain in the hospital for the next few days.
An account was set up in Bronson's name. Donations will be accepted at any Wells Fargo Bank.
Ksl.com has not verified the accuracy of the information provided with respect to the account nor does ksl.com assure that the monies deposited to the account will be applied for the benefit of the persons named as beneficiaries. If you are considering a deposit to the account you should consult your own advisors and otherwise proceed at your own risk.
------
Story compiled with contributions from Sam Penrod and Paul Nelson.
×
Photos
Related links
Most recent Utah stories