Estimated read time: 2-3 minutes
This archived news story is available only for your personal, non-commercial use. Information in the story may be outdated or superseded by additional information. Reading or replaying the story in its archived form does not constitute a republication of the story.
Jed Boal Reporting Police are still looking for the killer of a pregnant woman who was gunned down this morning at a Salt Lake motel.
Early Thursday morning paramedics tried to save two lives, that of a mother and her unborn child. An emergency c-section saved the baby, but 30-year old Darla Woundedhead died at the hospital from gunshot wounds.
The Division of Child and Family services will now determine whether family members can take the child.
Jim Neil, Dream Inn Guest: "I was laying here watching TV ad I heard gunshots, so I rolled off the bed and called the cops."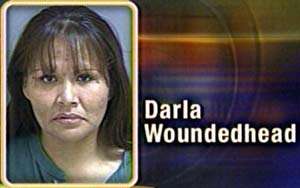 Jim Neil heard at least six gunshots.
Jim Neil: "They're unmistakable."
Police aren't sure what happened, but say drugs were found in room 26. An eyewitness, who didn't want to be identified, said, "Woundedhead was just in the wrong place at the wrong time. The woman was standing in the doorway when three men attempted to rob people inside the room."
As the three men were leaving, one turned and fired a shotgun, hitting Woundedhead in the stomach. Now police are looking for the three men and a woman, Kerri Armant, also known as Kerri Wulfenstein.
Police say Armant and the victim both have criminal histories.
Dwayne Baird: "We don't know what her motive is, and we're not certain she's the shooter."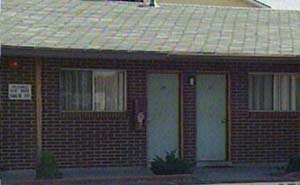 Dwayne Baird: "We don't know what her motive is, and we're not certain she's the shooter."
Det. Dwayne Baird, Salt Lake City Police Dept.: "She was last seen leaving the scene of the shooting at the time of the shooting, driving a four door compact car."
Police have responded to the Dream Inn in the past. There have been two shootings, one fatal, in the past four years. People who work next door say the place has a bad reputation.
Joan Fowler, Smurfitt Stone Employee: "I'm not afraid to come over here to the convenience store, but this kind of makes me nervous."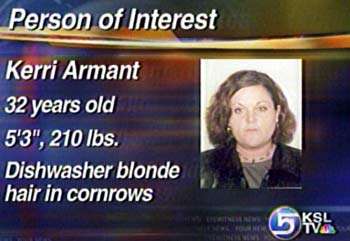 Again, police are looking for a person of interest in the shooting. They are looking for 32-year old Kerri Armant. She is 5 feet 3 inches tall, 210 pounds, and has dishwater blond hair worn in cornrows or multiple braids. She was seen leaving the motel with three men, in a four-door compact car.
If you have any information, call 7-9-9 INFO
×
Most recent Utah stories