Estimated read time: 2-3 minutes
This archived news story is available only for your personal, non-commercial use. Information in the story may be outdated or superseded by additional information. Reading or replaying the story in its archived form does not constitute a republication of the story.
Gene Kennedy ReportingTwo Salt Lake City brothers take on the "Mount Everest" of swimming -- the English Channel. Bound by blood and determined to fulfill a dream together, but the Channel posed unexpected challenges and an unexpected ending.
Richard: "We talked about it for about nine or ten years."
Dave: "I said, 'I'm gonna do this, I'm gonna swim the English Channel."
With light sticks around their waists Dave and Richard Barnes hit the water. The water is 61-degrees.
Richard: "When water's that cold it actually stings when you're getting in. It's a real mental game. From the time you get in the water you're fighting your common sense."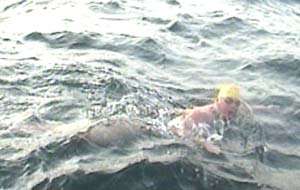 The brothers make it to sunrise, eating every half hour to keep their energy while treading water. But the challenges are only beginning.
Richard: "The wind and the conditions of the water that day were the biggest obstacle."
Not to mention the distance. This portion of the English Channel is 21 miles straight across, not taking into account the current.
Dave: "The thing that was the real nightmare was the waves. I'm just having a hard time, that's all. Well, it's a hard thing."
After 19 miles in the channel and traveling across the world, Dave realizes he can't go on.
Dave: "To not be able to accomplish that goal was devastating to me personally. I think the hardest part about not making it was knowing I let my brother down."
Richard: "I'm glad they didn't tell me."
As he continued swimming, Richard thought his brother was still in the water. A false comfort, but enough to see him through to the French coastline.
Richard: "At that point, I was in no pain. It was pretty exhilarating."
Dave: "In him finishing I felt some victory as well. There's certainly a bond we had because of that swim, knowing what we faced and what we went through."
The brothers are setting a new goal. Next year, they're considering swimming between Lenai and Maui. That's nine miles, much shorter than the English Channel and the water's warmer, but there are sharks.
×
Most recent Utah stories