Estimated read time: 2-3 minutes
This archived news story is available only for your personal, non-commercial use. Information in the story may be outdated or superseded by additional information. Reading or replaying the story in its archived form does not constitute a republication of the story.
Sam Penrod Reporting A new adventure sport is becoming more and more popular, and Utah is becoming the center of it all. It's called snowkiting, a form of paragliding on the snow.
I expected that this snowkiting festival was a Utah event, but I quickly found people are coming here from all over the United States to snowkite along the Skyline Drive. It seems Utah has the perfect wind to compliment the greatest snow on earth.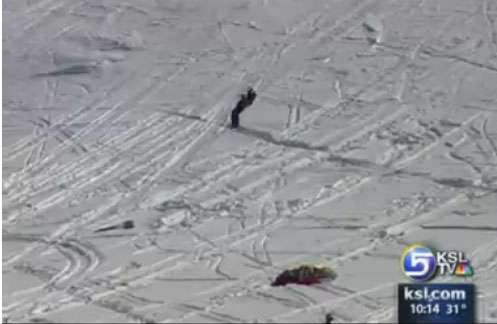 It's a picture-perfect scene. Kites flying in the air and people gliding along the snow. It's happening along the Skyline Drive in Sanpete County, and it's attracting people from across the country.
Aaron Sales, Oregon resident: "We do a lot of water up in Oregon. It's really easy to transition from water to snow, and back and forth. So everything you learn on the water transfers over. It's not as forgiving as the water, but it sure makes it exciting to be able to glide across the snow."
Many snowkiters are kitesurfers, but find kiting on the snow even more challenging.
Chris Haff, Florida resident: "A lot more air, a lot bigger air. You know, on water you're on a flat surface, here you have hills to jump off of."
Snowkiters say this is the place for their sport. The wide-open area at an elevation of 11,000 feet, where the wind is always blowing, and the snow is perfect. You could say Utah gliding enthusiasts are on cloud nine.
Steve Mayer, Salt Lake City resident: "No one ever thought that Utah would be a world-famous kite place. We all know it's a hang gliding and paragliding place, but it turns out that the Skyline Drive, this place right here, is the most famous snowkiting place in the country."
While the location here on the Skyline Drive is ideal for snowkiting, the scenic views here are also making it a very popular spectator sport.
Brad Anderson, St. George: "Looks like fun. I want to go try it."
Brad Anderson came with his family to watch the snowkites glide through the air and enjoy this unique sight.
Brad Anderson: "It's amazing how they get around up there. Going up hill, pulling uphill with a kite, that is amazing to me."
And snowkiters believe the sport is only going to get bigger.
Aaron Sales: "This is an awesome event. I think it is going to be something that will last for years, and I hope more people will come out and get to experience this, because once you try it, it will change your life."
The snowkiting festival continues tomorrow along the Skyline Drive at the top of Fairview Canyon. By the way, it was a gorgeous day to be outdoors. Although it was cold, when we were there today, it was only in the single digits.
×
Related links
Most recent Utah stories