Estimated read time: 2-3 minutes
This archived news story is available only for your personal, non-commercial use. Information in the story may be outdated or superseded by additional information. Reading or replaying the story in its archived form does not constitute a republication of the story.
Richard Piatt Reporting It's downright scary for some older people; some have to pick between food and prescription drugs. Now, the Federal Government is offering a new Medicare benefit for seniors and former Utah Governor Mike Leavitt is in town to help explain it.
Some older people spend hundreds, even thousands of dollars every month on prescription drugs they need. For the first time, the Federal Government is offering a way to help, but people have to sign up.
Secretary Mike Leavitt is touring the west on a huge bus, decorated with signs trumpeting the new prescription coverage. Everywhere he travels he addresses senior citizens in a similar forum, but here in South Salt Lake, it's a little different.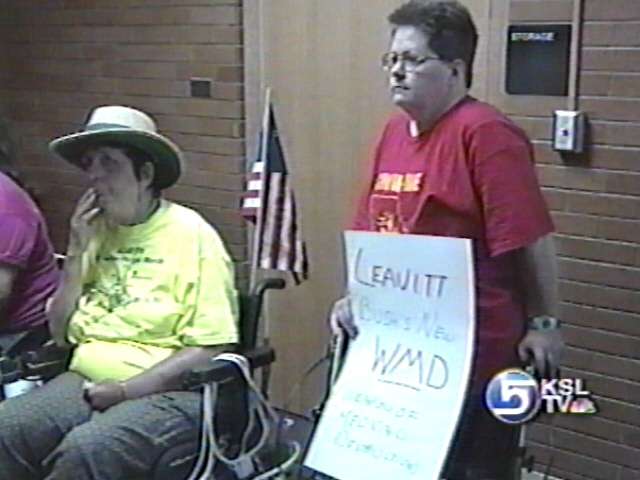 Mike Leavitt, Secretary, U.S. Health and Human Services: "We're going to be in 30 states by the end of August, and I don't think I need to tell you which one I've been looking forward to the most."
Leavitt is on the road to talk about Medicare part-D, the first ever government sponsored drug coverage for senior citizens. Part of the Medicare modernization act Congress passed last year, Leavitt says it's the most important change to Medicare since it began. But seniors need to sign up and choose one of plans that are offered.
Mike Leavitt, Secretary, U.S. Health and Human Services: "When people get into it, they're going to find out it's not that complicated. They need to make a choice, and that's all they need to do."
The new coverage is welcome news to people like Mel and Dorothy Burton of Bountiful, who now have to pay out of their own pocket for their prescriptions.
Mel Burton, Needs Prescription Drug Benefit: "It's between $350 and $425 a month for my prescriptions."
Lorraine Woolford, Needs Prescription Drug Benefit: "When you get to be my age or over 65, you need your medications and you don't want to have to worry about food or medications."
But among all the good news for those over 65 who qualify for Medicare, there are worries for younger people on Medicaid. Protesters make the point that federal government cuts could be coming for Medicaid that will affect Utah and everyone else.
Ken Wulle, Medicaid Recipient: "I have questions about whether I'll be allowed to live or die."
Seniors can expect a handbook in mid-October with information about the different options. Enrollment begins in November and coverage begins at the first of the year. After enrollment ends in May of next year, it will cost seniors more to be a part of the plan, which is why the information push is starting now.
This is a story you'll be hearing more about in the future, and it could eventually affect every single person watching, eventually.
×
Related links
Most recent Utah stories