Estimated read time: 2-3 minutes
This archived news story is available only for your personal, non-commercial use. Information in the story may be outdated or superseded by additional information. Reading or replaying the story in its archived form does not constitute a republication of the story.
SALT LAKE CITY -- A Utah senator thinks the way Utah looks at its budget needs to be "rethought." Sen. Chris Buttars, R-West Jordan, began outlining his plan this week to reform state spending from the ground up.
Among his proposals is one to eliminate the 12th grade, a move he says would cut $250 million out of the budget every year.
"Almost all of the industrial world uses 11 grades," he said. "Why do we use 12? The kids either got their one foot in AP classes in college, or they're just running around, taking PE."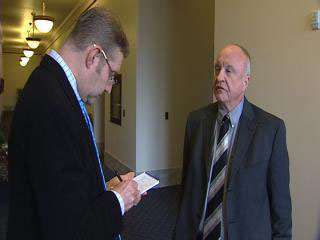 Buttars hosted what he called a government reform summit at the State Capitol this week. In attendance were several Republican senators and representatives, as well as some conservative leaders like Gayle Ruzicka of the Utah Eagle Forum.
Buttars believes his ideas "have legs."
"I presented it at caucus, and they loved it," he said.
Besides eliminating the 12th grade, Buttars is proposing privatizing state parks and re-examining Utah's motor vehicle fleet, the state's Drug Abuse Reform Act and state funding for busing high school students.
Buttars said re-thinking systemic state operations and shrinking state government could save taxpayers hundreds of millions of dollars.
"We need to back government off," Buttars said. "Government is the sole agent of taxation, and taxation is the greatest deterrent to market success and household purchase power."
Still, talk of eliminating the 12th grade is shocking to a lot of people, and Buttars knows there will be resistance.
"The idea of doing away with the 12th grade is, I think, very shortsighted," said Sen. Gene Davis, D-Salt Lake City.
Davis is one who is not willing to sign off on any of these ideas yet.
"If we're looking for efficiencies in government, I think it needs to be looked at, it needs to be studied," Davis said. "It's not something we could do in the next 45 days to make happen."
Newly-elected Senate Majority Leader Scott Jenkins said he was there to listen. In principal, he said many of Buttars' fellow Republicans might agree with him, but Jenkins also has a lot of questions over the reality of some of Buttars' proposals.
In a tough budget year like the one we have right now, a hard look at public policy and the way taxpayers money is spent is probably inevitable. But for a certain group of legislators on Capitol Hill, when they way they're looking into every nook and cranny for ways to save money, they mean it.
------
Story compiled with contributions from Marc Giauque and Richard Piatt.
×
Related stories
Most recent Utah stories