Estimated read time: 2-3 minutes
This archived news story is available only for your personal, non-commercial use. Information in the story may be outdated or superseded by additional information. Reading or replaying the story in its archived form does not constitute a republication of the story.
Ashley Hayes Reporting In many drugstores the cosmetics aisle is set up so it's the first one you see. It brings in a huge chunk of the store's revenue.
Now several drugstore chains are hoping to make even more money by offering higher-end skin care products.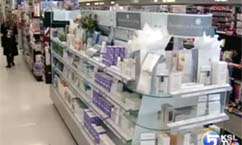 The European skin care products they offer look different than the other drugstore cosmetics, from the separate display down to the bag you carry out of the store. A lot of thought has gone into how the consumer perceives the products. It's a $45-billion industry, and these stores want a part of it.
Judging a book by its cover, or in this case a product by its packaging and name, these creams, washes and exfoliates make you believe you're standing inside a high-end department store. But these products are created exclusively for drugstores, and you can put them in your basket as you head over to aisle nine to grab your milk.
Christine Connaughton, Walgreens beauty advisor: "They can come to their local drugstore to buy the high-end and not go to the mall."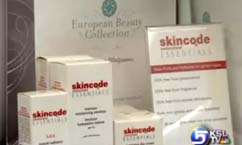 Walgreens, Target and CVS are wagering convenience paired with aesthetically pleasing displays, flowery boxes, and wrappers will give them an edge in the lucrative skin care market.
"Quite a bit of our sales come from our cosmetics area."
So we picked out a couple of products. We took them to the streets to see if consumers buy it.
Stacey Koumo and Margerite Schaffer, skin product consumers: "They look like nice products. I like to try products that are a little bit new."
Bonnie Ulmer, skin product consumer: "I usually go to Nordstrom with the Mac, but these look really good."
From the windows of a nearby beauty specialty store, our drugstore products look as good as what's inside. Even so, our consumers aren't entirely convinced.
"They say a lot of times just because you're paying more for them doesn't make it a better product."
"I'd purchase that. It would just depend on how much it costs."
And there is a range. Our conclusion is that drugstores may be able to lure in customers with their eye-appealing packages. But whether consumers come back for more will depend on if they like what's inside the front cover.
×
Most recent Utah stories