Estimated read time: 2-3 minutes
This archived news story is available only for your personal, non-commercial use. Information in the story may be outdated or superseded by additional information. Reading or replaying the story in its archived form does not constitute a republication of the story.
AMERICAN FORK -- Investigators have identified a body found Thursday near the Utah-Nevada border.
American Fork police said the body was that of 46-year-old Jesus Landin of Lehi. They said they believed he was murdered on Dec. 28.
American Fork police arrested 29-year-old Ramon Alfredo Somoza Friday in connection with the murder. Police said he was the victim's employer.
According to the probable cause statement filed by police in court Friday, the suspect admitted to shooting his employee at least six times, claiming it was self-defense after he was attacked.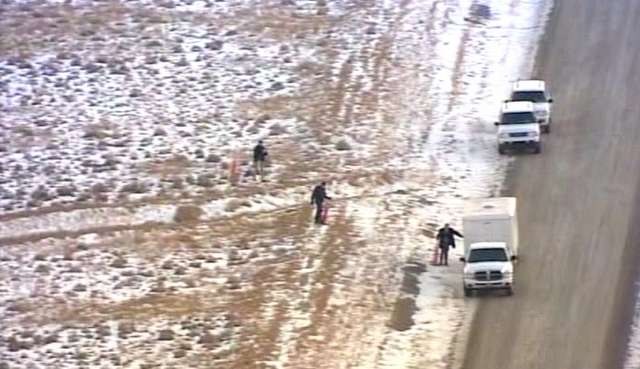 The Apollo dance club in American Fork is where police say Landin was killed, likely back on Dec. 28.
He was reported missing by a friend on New Year's Eve, who told police he hadn't been heard from since saying he was trying to get paid for some work.
Police traced Landin's last cell phone call to Somoza on Dec. 28, and that call was made in American Fork.
American Fork police searched a Dumpster at the Apollo dance club and found carpet, personal items belonging to the victim and a sheet which appeared to have blood on it.
Detectives then called in Somoza for questioning Thursday afternoon and coincidentally, it was at the same time news was breaking about the body in Wendover. When pressed, police say Somoza admitted to killing Landin and dumping his body in Nevada.
Lt. Sam Liddiard, American Fork Police Department, said, "Investigators talked to him about items found in the Dumpster and the location of the body found west of Wendover, and Mr. Somoza then advised investigators he had in fact shot Jesus, had wrapped his body in some garbage bags and duct tape and transported him in his truck to the place out west of Wendover."
Police served a search warrant at the apartment at the dance club Thursday night and found the walls had been recently painted.
They also recovered a .357 handgun; they believe was the murder weapon.
Somoza was booked into jail on murder charges and obstructing justice. A judge set his bail at $500,000.
------
Story compiled with contributions from Sam Penrod and Marc Giauque.
×
Related stories
Most recent Utah stories