Estimated read time: 2-3 minutes
This archived news story is available only for your personal, non-commercial use. Information in the story may be outdated or superseded by additional information. Reading or replaying the story in its archived form does not constitute a republication of the story.
Richard Piatt ReportingSalt Lake City's police chief is ready to call it a career. Rick Dinse plans to retire from police work early next year, after five years in Salt Lake City and more than 20 years in Los Angeles.
The Salt Lake police department has been in the national news spotlight at least three times since Chief Dinse took over in fall of 2000. It wasn't what he expected when he took the job; they are now memories that bring mixed feelings.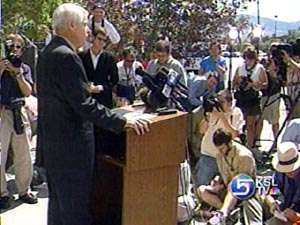 Chief Rick Dinse still had second thoughts about retirement this week, but a memo, accidentally e-mailed to the media Wednesday, cemented his decision.
Rick Dinse, Salt Lake City Police Chief: "I didn't plan the announcement to come out the way it did. On the other hand, I expected it would get out."
Just under a month before coming to Utah we caught up with Dinse at the LAPD. Back then he was looking forward to the challenges of the 2002 Olympics. Now, looking back at that event, there are pleasant memories.
Rick Dinse, Salt Lake City Police Chief: "The way these officers represented our city and the world was just exceptional. It was a highlight of my career."
But there have been tough times For Chief Dinse, too. After Elizabeth Smart was kidnapped, there was intense pressure to find her and to arrest a suspect. Attention focused, for a time, on Richard Ricci. It was also a strained time for the chief's relationship with Mayor Rocky Anderson.
Rocky Anderson, Salt Lake City Mayor: "Obviously I thought some of our officers were on the wrong track with regard to Richard Ricci, and they needed to start taking a look at Mitchell."
Rick Dinse, Salt Lake City Police Chief: "Yeah, there were things there that we would do differently. As to Ricci, I have no apologies for Ricci."
The Lori Hacking case presented the challenge of a grueling landfill search. And, yet another round of national media coverage; attention they'd gotten used to after the Olympics.
Rick Dinse, Salt Lake City Police Chief: "I didn't think on the heels of that we'd have one national news event after another, which in fact did occur."
Chief Dinse eventually plans to return to LA. In the meantime, the mayor plans to organize a search committee to look for a new police chief.
×
Most recent Utah stories