Estimated read time: 2-3 minutes
This archived news story is available only for your personal, non-commercial use. Information in the story may be outdated or superseded by additional information. Reading or replaying the story in its archived form does not constitute a republication of the story.
Sandra Yi ReportingPolice in West Valley have released surveillance video, of a car, involved in a hit and run last week; the driver apparently purposely drove into two teenage boys. It happened in broad daylight, in the south-end parking lot, at the Valley Fair Mall.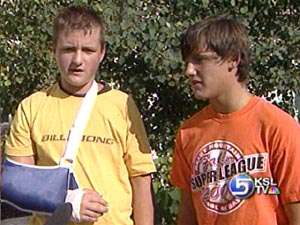 Brooke: "I thought we'd get the plates off the car, but then, I'm informed that there are no security cameras outside the mall."
That left one victim's mother frustrated. But now, there's renewed hope. The suspects' car, was caught on tape, moments before the hit and run.
Capt. Steve Sandquist, West Valley City Police Dept.: "We just got lucky on this one. So at least now we have a picture of this."
Police say two teens were leaving the mall, when three men in a vehicle confronted them.
Capt. Steve Sandquist: "They make some idle threats towards them and then the kids just go ahead and continue southbound in front of the mall."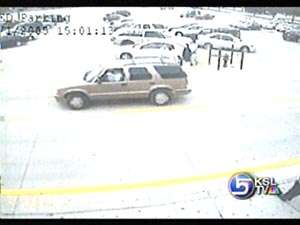 The men followed. At the south end of the mall, they circled the teens in their vehicle. The driver punched the gas, and hit one teen. A passenger opened his side door and struck the other.
The victims say it was no accident.
Chase, Hit and Run Victim: "They were looking for a fight, I guess. They don't think. They just want to fight. And we were the first ones on their list."
One suffered a concussion and a sprained ankle. The other broke his wrist.
Capt. Steve Sandquist: "It could have been very serious, running over them with a vehicle. They could have ran directly over them and we would have had a much more serious situation."
Police say the car is a newer model, brown or gold blazer. The suspects are 17-20 years old. The driver was wearing a white t-shirt. His passengers had red shirts and ball caps. If you recognize the men in the video or the car, call West Valley City Police.
×
Most recent Utah stories