Estimated read time: 2-3 minutes
This archived news story is available only for your personal, non-commercial use. Information in the story may be outdated or superseded by additional information. Reading or replaying the story in its archived form does not constitute a republication of the story.
ESCALANTE, Utah (AP) -- A Garfield County sheriff's deputy was killed during a traffic stop Sunday afternoon. Deputy David Jones was hit during a shootout with two men he had pulled over on a road about 5 miles south of Escalante around 3:30 p.m. The deputy suspected the driver was intoxicated and called for a tow truck and routine backup before being shot, the sheriff's department said.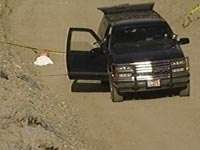 When the tow truck arrived about five minutes later, the driver found the deputy and called for an ambulance. The deputy was pronounced dead at the scene.
Two men were taken into custody a few hours later. They were parked in a car on a dirt road between Escalante and Big Water. One of the man had been shot in the chest, apparently by the deputy.
The bullet was lodged in his right lung and he was taken to a hospital in Flagstaff, Ariz., and was to be flown to a Utah hospital later. There was no immediate word on his condition.
The suspects' names were not released.
The deputy was one of six who along with the sheriff patrol the sprawling southern Utah county. Jones, who worked for the county for only 16 months, had wife and young children in Escalante.
Sheriff's spokesman Nathan Russeau said several deputies met the sheriff's office in Panguitch on Sunday night.
"The guys are gathering around in a circle right now. It looks like they're praying," he said. "It's really starting to sink in to them that it's one of their own," Russeau said.
Sheriff Than Cooper and investigators were still at the scene late Sunday. The shooting took place about two hours away from the county seat of Panguitch, where the suspect who wasn't shot was to be taken to the Garfield County Jail.
The suspects were caught when the car was spotted parked on a dirt road by officers in an Arizona Department of Public Safety helicotper that was called in to help with the search. The helicopter dropped several officers off about half a mile away from the car and they walked to it and apprehended the men without incident, the sheriff's department said.
(Copyright 2003 by The Associated Press. All Rights Reserved.)
×
Most recent Utah stories