Estimated read time: 2-3 minutes
This archived news story is available only for your personal, non-commercial use. Information in the story may be outdated or superseded by additional information. Reading or replaying the story in its archived form does not constitute a republication of the story.
Environment Specialist John Hollenhorst reportingAbout five miles south of Lake Powell on the Navajo Indian Reservation, there's a canyon so unusual and mysterious they named it "Canyon X".
Not long ago, it was opened up to outsiders who pay $135 apiece to go there and take pictures.
Environment Specialist John Hollenhorst joins us tonight for an exclusive trip into an amazing, and amazingly beautiful, place.
Chances are, you've never heard of Canyon X. And no wonder. Until a couple of years ago, you weren't allowed to go there. Now you can if you pay a lot of money.
People do it. Willingly. And you're about to find out why.
It's a short trip down a dirt road in Navajo Country. And then a short hike down a steep embankment, into flash flood territory. A big one just a few months ago lowered the wash by four feet.
"We do not come out here when there's a danger of flash flood," says expedition leader Jackson Bridges.
It isn't long before we find the opening. It's a narrow slot that soars to the sky -- a canyon that didn't use to have a name.
"So we called it Canyon 'X'. 'X' is mysterious, 'X' is unknown," Bridges says.
"And this is incredible. I've never seen anything like this. It's just beautiful," says tourist Pat Talbott.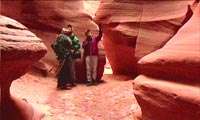 "We estimate Canyon X to be overall an average of 150 feet deep from the surface down to where we're now standing," Bridges says.
Even though a narrow strip of sky is visible above, one section of canyon is so dark you can't see the hand in front of your face.
"Very little light gets to the bottom. No sunbeams or anything like that. There is one point in the summertime when it opens up and gets a little brighter, but it only lasts only 20 or 30 minutes," Bridges says.
Navajo Indians who live in the area have known about Canyon X for decades. But it's only in the last couple of years that outsiders have been allowed to come here.
"It just looks like someone took a tool and carved these walls, and ... it's like a huge, you're walking through a huge sculpture," Talbott says.
Frank Talbott paid $135. That includes six hours of expert camera advice from veteran photographer Jackson Bridges.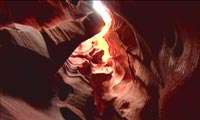 "I think it's worth it. There's nothing like it anywhere ... Visually, it's stunning. Yeah, I think it's worth it," Frank Talbott says.
Pat Talbott tagged along without a camera for $85.
Canyon X seems nearly untouched by man, except for someone named Lloyd Ashley who left his mark in 1918.
If you want to know who our photographer was, it's KSL veteran Bob Greenwell. And here's a footnote. The day we were there, a local Navajo scouted out another hidden canyon that may open up for tours. He says it's even better than Canyon X.
×
Most recent Utah stories